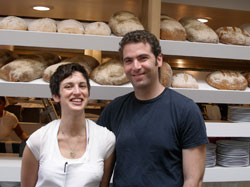 photo: Joshua Lurie/944.com
With a sensibility learned from fairy tales, one would expect a baker, the conjurer of butter, sugar and fruits, flour and spices, to be a kind and gentle person. Peering over a row of story-book cakes and pies, the baker, always wrapped in a white apron with a dusting of flour, desires only the customer's enjoyment of what has been produced by "her" skilled hands and generous heart.
That fairy tale baker has come to Santa Monica with the appearance of Zoe Nathan, she of the mile-wide smile, generous heart, and magical hands. Zoe and husband Josh Loeb are the proprietors of Huckleberry (1014 Wilshire Blvd. Santa Monica CA) and Rustic Canyon Restaurant and Wine Bar just across the street from Huckleberry. Since Zoe begins baking each day at 3AM, she is not always peering over the display case filled with her efforts, although one morning I glimpsed her dancing behind the pastry board. The display case at Huckleberry makes for its own worthy peering and astonishing, addictive eating. Every day it is a bit different depending on the availability of farmer's market fruits and Zoe's whims.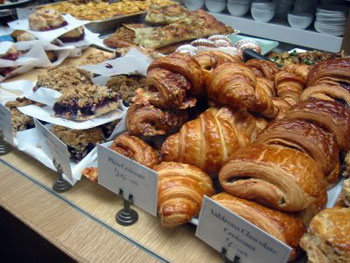 The classic coffee cake, sometimes with fresh blueberries, sometimes filled with treasures unknown, always calls my name. But then there's the blueberry cornmeal cake, the chocolate walnut torte, the candied kumquat enhanced coffee cake devoured minutes before writing this review, bread pudding made from Zoe's wonderful breads and bursting with berries or bananas or mangos. And the Valrhona Chocolate Croissants or plain (that word really doesn't belong here) croissants, her 3" high homemade English muffins with berry jam, the fruit crostatas beautiful enough to frame, the tea cakes (this morning's banana teacake had lengthwise sliced bananas slashed across the top which was artistic and gorgeous).
The "one for the table" philosophy is perfect for Huckleberry, and in that case you can't miss with one mini chocolate cupcake and one mini kouign amann (a bite or two of a buttery something with a sugar crunch) and maybe a Niman ranch maple-bacon biscuit, or a salted caramel or a shortbread cookie. The possibilities are exhausting and luscious.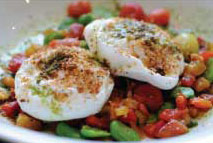 Since Zoe began her career as a culinary school grad and a restaurant cook, the breakfast dishes are as tempting as the breakfast pastries. On the mornings that the jeans feel a little snug, it seems wiser to order a house made granola and creamy yogurt that is served drizzled with local honey. The soft baked eggs with roasted tomato sauce, white beans and parmesan cheese has a lively tomato taste mellowed by the beans and the eggs. It is absolutely delicious. Then there's the genius dish of quinoa, spinach, and tiny sprouting broccoli with sunny side up eggs, or the poached eggs over fresh market vegetables with pesto and toasted bread crumbs. If none of that suits you, there is the Green eggs and ham with La Quercia prosciutto, pesto and arugula served with an English muffin or a fried egg sandwich with sunny side up eggs, Niman ranch bacon, Gruyere, arugula, and aioli on crusty country bread. For the kids there's peanut butter and homemade jam or Nutella on one of Zoe's breads. And that's just breakfast.
Huckleberry also serves salads and sandwiches for lunch and early evening dinners. They have recently started 3 course family dinners on Thursday nights which begin with a warm baguette wrapped in paper tied with a butcher twine bow, European style butter, and whole roasted garlic sitting in a wonderful olive oil. The menu is different each Thursday – last week's was market spring onions made into a soup, followed by chicken pot pie with organic, local vegetables topped with a giant tender herbed biscuit. Dessert was a warm brown sugary, carmelized apple tart served with homemade vanilla ice cream and whipped cream. Just as a little after-dessert dessert, two small, tender chocolate chip cookies ended a delectable dinner.
The fairy tale baker can cook too.
Huckleberry Cafe
1014 Wilshire Boulevard
Santa Monica, CA 90401-1907
(310) 451-2311
Rachel Parker is a middle school teacher and home cook.