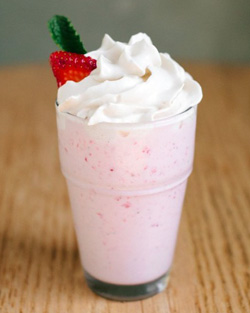 On this very hot day I can't stop thinking about the strawberry milkshake I inhaled for dessert at Pono Burger a couple weeks back. Strawberry was all time childhood ice cream fave flavor.
But somehow I abandoned it in adulthood in favor of the "more interesting" salted caramel, brown bread, you know the drill. But seeing those frosty glasses brimming with pink creaminess being carried across the room seduced me. I wish I had one right now.
Strawberry is Back!
I've passed the quonset hut at the corner of Broadway and 9th many times, wondering what it was but never stopped in. How lame! Turns out it's Pono Burger and as treat we ladies of Good Food went for Pono's first anniversary dinner to meet Chef Makani.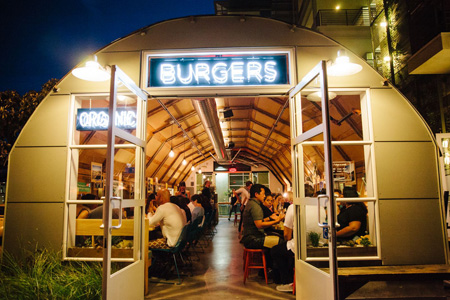 Most first anniversaries in the restaurant business are a time to breathe, pat oneself on the back and quickly get back to work. But Chef Makani's was different. Somehow she managed to infuse the space with aloha 'āina the Hawaiian love of the land. The most touching moment was when the hula troupe Hula Halau Keali'i O Nalani sang her a blessing and started dancing. Very special
I don't eat many burgers anymore, in fact, this was my first one this year. It was worth it. Grass fed, grilled over white oak. Everyone at the celebration had a plate of sliders, each one with different garnishes. I'm usually not a slider gal. A burger needs to be big enough to be juicy to make me happy but these were thick and yes, juicy with a definite smoke flavor from the wood. Worth every bite.
Pono Burger is a family affair with Chef Makani Gerardi and her husband Jeff Carzino.
PONO BURGER
829 Broadway, Santa Monica, CA
310.584.7005
Photos by Gennia Cui
Evan is an active speaker on culinary subjects as well as issues of food culture and sustainability and, just to keep a balance, she has a very public love affair with Pie. She's been called the Jerry Garcia of cooking with the freewheeling improvisation she brings to the kitchen. You can follow her exploits on her blog at http://www.evankleiman.com/