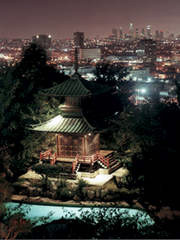 Though I've lived in Los Angeles for two decades, I still don't consider myself an Angeleno. Mostly because we rarely do anything that's considered interesting or hip in this vast and ever-changing metropolis. We have our own wine cellar – well it will be someday, but right now it's an office with cases of wine stacked in it – and a kick-ass Rock Band set-up, so we're pretty much self-entertained. It's hard to pay for drinks when you have so much waiting for you at home. However, every once in awhile I feel the need to explore our horizons and wander out into the City. The Man goes along with "the plan" because he has no real choice in the matter. Putting up a fuss just wastes energy in a fight you aren't going to win. Lately, our excursions have centered around vintage Hollywood venues, which are regaining their popularity due to an "old is cool" mentality sweeping the city. We're not only old-fashioned, we like our drinks that way too, so the new classic cocktail culture is giving us a reason to step out once again. Being a fan of Hollywood history, I am slightly embarrassed to admit that there are many old school, infamous places I've never been to like Musso & Franks, The Polo Lounge, Chateau Marmont and Spago. Didn't have any money when I moved here. Still find it hard to spend $12 on a martini. There is however, one place I can now cross off the list: Yamashiro.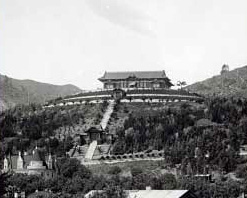 Every year we gather before the L.A. Marathon to wish our crazy friend Sam well on her endeavor to run 26 miles in a row...without needing serious medical attention. This year with her parents in town from D.C., I took it upon myself to try to find a restaurant that both tourist and local could love. Perched high on a hill above Hollywood, Yamashiro has been part of the Los Angeles scene for almost nine decades and provides a classy, unusual (for LA) dining experience. The original structure was built in 1911 by the Bernheimer brothers to house their collection of Asian treasures. It took three years to build, had 300 steps that led up to the mansion and was surrounded by hillside terraces filled with 30,000 different varieties of trees and plants. The current Pagoda Bar has views of Hollywood, which is ever rising, as well as of its' namesake, a 600-year-old pagoda, which was brought over by the brothers from Japan and is the oldest building in California.

Unfortunately, the brothers didn't get to enjoy their dream home for very long. After one of them died in the early 1920s the property and all its' artwork was auctioned off. From there the site's history, becomes quite colorful, serving - over the years - as a private club for the celebrities of early Hollywood, a boy's military school during World War II when anti-Japanese sentiment turned against the property and - before it was rescued by the family of its' current owner - a second floor was added and converted into 15 apartment units. Thomas O. Glover was going to demolish the place and build a hotel, but lucky for us he recognized the beauty and quality of the building underneath all the crap built over it. The place is enormous with views from Downtown Los Angeles all the way over to Culver City. If the urban landscape doesn't suit your mood and you want to pretend you're no longer in a big city, request a table in the Inner Garden Courtyard, a lovely spot that instantly quiets the soul.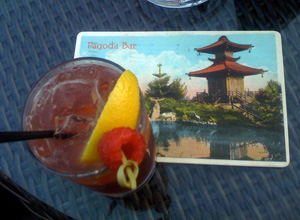 Since there was going to be eight of us I made a reservation. The place is so large I wouldn't think it necessary for smaller groups, however, it was pretty packed. We arrived earlier than the rest of our party so we headed down the staircase to the Pagoda Bar, which had a cool vibe and friendly service. Definitely a great place to have cocktails on a SoCal summer evening. Of course, since you have to valet your car and there's no street parking around the restaurant, it's not exactly a pop-in sort of place. You can eat down there as well, so arrive early, camp out and watch the sunset and the pretty people. Being a lover of Chambourd, I had to order the Purple Swan (vodka, chambourd, lemon juice), which was crafted for easy drinking but also packed quite a punch. A drink that delivered like two, which made the $12 price much easier to swallow. So to speak. The drink specials are listed on a postcard showing the restaurant in its' early days, which you can fill out and they'll mail for you anywhere in the U.S. A fun, if kitschy touch.

The food is CalAsian with a heavy emphasis on seafood, though they have meat and vegetarian selections available, too. A necessity for our crowd. Can't say enough about the Kurobuta Pork Carnitas served over a scallion-risotta cake. I haven't been that blown over by a dish in a long time. Simply perfect mixture of flavor and texture. Also really enjoyed the Crispy Chicken appetizer. We went a bit out of our element and ordered the Jerk Shrimp roll, which came with sliced pineapple and a plantain sauce that delivered quite an unusual taste sensation. Odd, but tasty. Spicy and sweet. Friends got the Darth Vader roll which was made with spicy tuna, black rice and tobiko fish roe. The Man gave it a go and liked it, I just couldn't do it. Have not acquired the taste for roe and wasn't in an adventurous mood. Looked cool though, all black and dangerous. For the entrees we stuck pretty much to our standards - the short rib and the BBQ baby back ribs. The asian spices gave both the dishes a wonderful flavor twist to the fall-off-the-bone tenderness of the meat. The portions were so large we got two more meals out of them. Being a wine lover, the list was pretty well-chosen though not what you called plentiful. The bottle prices were more than fair and better than you'd find in most Asian restaurants.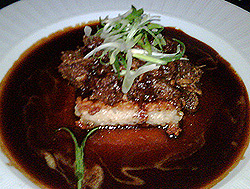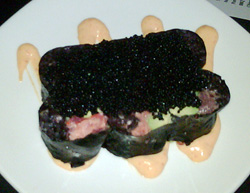 Overall, everyone left full and happy, which is always the point of a night out. We couldn't afford to eat here very often, but I will return sooner rather than later. Probably for their Wednesday Classic Movie night. Just give me a cinema treasure, a big glass of wine and those Pork carnitas and I'll be in Hollywood heaven.
Lisa Dinsmore is a writer and web programmer. She has her own wine blog called Daily Wine Dispatch. She lives with her husband Dave in Los Angeles.