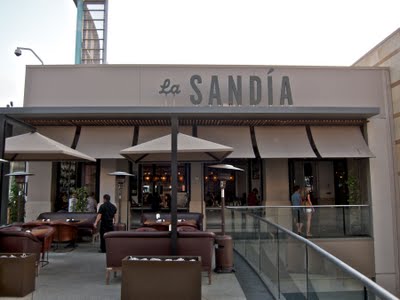 La Sandia Mexican Kitchen and Tequila Bar shares the top floor of Santa Monica Place with half a dozen other restaurants, the Food Court and the Market.

You'll recognize La Sandia by the crowded patio and open air bar, offering over 200 tequillas, half a dozen margaritas and Mexican beers, Mojitos, Capirinhas and Sangria pitchers.
The front part of the restaurant is dominated by the busy bar scene, especially at Happy Hour. With generously extended hours Sunday-Thursday from 4:00pm-9:00pm and Friday 4:00pm-7:00pm, Happy Hour appetizers are $3.00 (shrimp ceviche, a choice of quesadillitas, tacos, empanadas and sliders, chicken wings and bbq pork ribs), margaritas $5.00, Mexican bottled beer $3.00, daily specials Mondays-Thursdays and $5.00, "bottomless" bowls of guacamole.
Walk past the bar and you enter the restaurant with a dining room in a plaza style expanse, dominated by a retractable ceiling, a large fountain with four, smiling cherubs and upholstered booths with plush seating.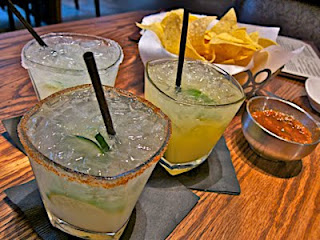 On a recent weekday visit, the bar area and patio were packed with young professionals. The booths and tables in the restaurant were filled with a mix of couples, families with small children and groups of friends relaxing, eating and drinking.

The food is well-plated, with good sized portions. All the sauces, flour and corn tortillas and salsas are made fresh daily.
Featured dishes like the molcajete tacos for two ($23.95), could easily feed four as part of a family style meal that included the guacamole prepared tableside ($10.95/$18/95), an appetizer like the mushroom huraches ($9.95), one of the rich and deeply satisfying soups (tortilla soup/$7.95 and roasted corn/$8.95), another entree like the iron skillet shrimp fajitas ($17.95) and a sampling of the desserts, which include affordable portions ($2.95) of flan, tres leches cake, sorbets and a banana empanada with vanilla bean ice cream.
The moderately priced food is hearty, well-seasoned and fresh-tasting with a homemade quality. Nicely, La Sandia feels festive without being loud.

The molcajete is used in the presentation of many featured dishes.
Traditionally made from volcanic stone, the three-legged bowl is used in preparing the guacamole at the table. Whole avocados are mashed together with onions, fresh tomatoes, cilantro, serano peppers for heat, sea salt and lime juice. Guacamole can be good but at La Sandia it is great, with the perfect balance of salty, creamy, crunchy (those delicious raw onions) and heat. Eaten on the freshly made tortilla chips and all you're missing is an ice cold cerveza or a salt-rimmed margarita.

Attention to details is a standard of good cooking.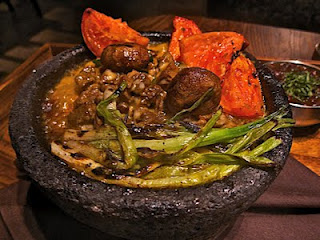 The molcajete tacos for two exemplifies that perfectly. Also served in a molcajete. This time the stone bowl has been heated in the oven so the sauce surrounding the cubes of grilled skirt steak bubbles and pops, releasing waves of savory sweetness into the air.
Topping the dish are the quartered pieces of a whole tomato, two plump brown mushrooms and a packet of charred scallions. A raft of beef cubes appear to float on the surface.

Looking at the dish you assume the word "tacos" in the menu description is a mistake. There is a container of freshly prepared flour and corn tortillas next to the molcajete but surely this is a hearty stew not a "taco."

But you would be wrong. The molcajete contains the taco filling. Possibly the most elaborately constructed "filling" I had ever seen.

To finish the dish, you will ask your waiter for more flour and corn tortillas....many more. Dig deep into the stone bowl to discover its hidden, secret wonder: molten hot fundido cheese.

Tear a tortilla into quarters, put a spoonful each of the Spanish rice and charro beans (black beans simmered with chorizo and onions), a fork-full of caramelized steak coated in liquid cheese, add a piece of charred scallion, a tasting of the roasted tomato and green chile salsas and pop the tasty packet in your mouth.

As your mouth enjoys all those flavors and textures, your eyes close and you begin to mumble. Your friends at the table will wonder what you are muttering about. If they could hear you clearly, they would understand you are saying, "Oh my god that is wonderful."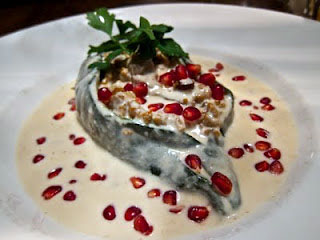 When the plate of chile en nogada appears on the table, everyone will lean forward to inhale the wealth of aromas rising from the poblano pepper, split open to reveal the crumble of sauteed pork. One bite and your eyes close again and if you are all sharing bites together, all eyes will be closed and mouths will be moving as if speaking through sealed lips. A passing waiter will wonder if this is a group seance.
The walnut sauce makes the dish. Warm, creamy, full of flavors that are nutty and yet so much more, the sauce perfectly ties together the muskiness of the poblano with the sweetness of the pork. Adding the pomegranate seeds is a delightful finish. The acidic crunch cuts diagonally across the richness of the sauce.

Chef-owner, Richard Sandoval generously shared his recipe for Chile en Nogada so even after Mexican Independence Day, you can continue to enjoy this delicious dish at home.

CHILE EN NOGADA

Serves 6

Ingredients for the sauce

1 tablespoon shelled walnut pieces
1/4 cup almonds, blanched
3/4 cup whole milk
1/2 cup sour cream
1 cup goat cheese
3/4 teaspoon each granulated sugar, salt and black pepper, to taste

Directions

Place the ingredients in a blender and pulse until smooth. Set aside covered and refrigerated until ready to use.

Ingredients for the filling

1 3/4 pounds combination of shiitake, button and portobello or crimini fresh mushrooms, cleaned, de-stemmed and sliced
1 1/2 tablespoons olive oil
1/2 medium white onion, peeled and finely chopped
1 clove garlic, peeled and finely chopped
1 pound fresh tomatoes, peeled and finely chopped
1 tablespoon almonds, blanched and finely chopped
2 tablespoons golden raisins
2 medium apples peeled, cored and chopped
1 medium ripe pear, peeled, de-seeded and finely chopped
1 medium ripe peach, peeled, pitted and finely chopped
1 tablespoon of oloroso sherry
1/4 teaspoon ground clove
1/4 teaspoon ground cinnamon
1 1/2 teaspoons light brown sugar
1 1/2 teaspoons kosher salt
1 1/2 teaspoons freshly ground black pepper
1 pound ground pork picadillo

Directions

In a large frying pan, heat the oil to medium high and sauté the onion until translucent; add the mushrooms until golden on all sides. Add the rest of the ingredients and continue to cook until all ingredients are heated thoroughly.

Cool enough to handle easily.

Directions for final assembly

6 poblano chiles, roasted and peeled, stems kept attached
1 fresh small pomegranate, seeded
1 1/2 teaspoons chopped fresh flat-leaf parsley for garnish

Make a slit in each roasted poblano chile from the stem to the tip. Remove the seeds and placenta carefully and divide the filling equally to stuff the chiles. If not serving immediately, chill in the refrigerator, covered, for up to a few hours before heating.

Before serving, cover and heat through in a 300 degree oven for a few minutes or under the broiler until hot. When ready to serve, spoon the sauce over the stuffed chiles and garnish with pomegranate seeds and chopped parsley.
David Latt is an Emmy-award winning television producer who turns to cooking to alleviate stress. He shares his experiences with food and his favorite recipes on his blog Men Who Like To Cook.