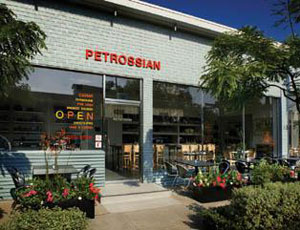 I've studied wine for a decade and have worked on my palate, expanding my personal taste to include styles from all over the world. Red, white, sparkling, dessert. I've tried them all. Yet, when it came to food, I still treated most meals as the means to an end – which was drinking great wine. So the fact that I've dined at the Petrossian Cafe twice in 3 weeks is more than a little out of character. It wasn't until I started following a bunch of LA foodies this past spring on Twitter that I realized how limited my experience with food really was. I was embarrassed by the long list of delicacies that I had never eaten and was actually afraid to put in my mouth. So, I started making a concentrated effort to eat outside my comfort zone and jump on the foodie bandwagon. Within the last six months I've eaten Wellfleet oysters on the half shell (a must when on Cape Cod), Escargot a La Bourguignonne (anything smothered in garlic and butter tastes good) and a Scotch Egg (a deep-fried delight).
I was beginning to understand what all the buzz was about, but was still a bit hesitant when invited by my friend Jo to join her and a group of local foodies at Petrossian, a restaurant that specialized in two of my biggest food challenges – caviar and salmon. I've tried both several times over the years and have been unable to overcome my overall dislike. Just when I think I've turned the corner (our friend Charles' amazing poached salmon with homemade dill sauce comes to mind), I encounter a variation that sends my palate running for the hills yet again. However, since Petrossian makes their fame and fortune via these delicacies I decided to try the best before giving up for good. Plus, her photos of their braised short ribs and black truffle mac & cheese looked so delicious I knew I'd have at least a few choices to fall back on. (Can't ever resist either.)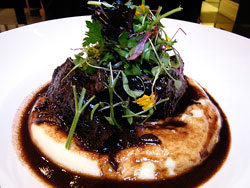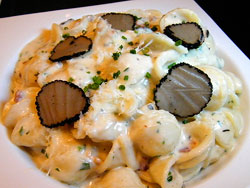 I have to admit to being a bit nervous, but decided I was going to try everything that came my way that night because, as I was learning, just like wine, you never know when you're going to find a new favorite. Since Jo knows the talented young head chef, Benjaman Bailly, we received more than a few extra treats, as he wanted us to sample what the new dinner menu had to offer. Our seemingly unending array of dishes brought endless delights, many of which were culinary surprises to me. Having recently uncovered a deep love of the beet, I was excited to try their Borscht. I've been curious for a long time about this classic, but the idea of eating cold soup made my stomach flip flop. No more. One of my favorite courses of the night, it was bright with beet flavor and had a savory, spicy pepper finish. It came in a tall shot glass, which was just the right amount, leaving me wanting more. (The usual serving is quite large in comparison and definitely enough for a group to share.)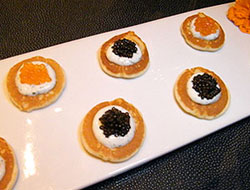 I almost bowed out when the Caviar Roe Sampler was delivered, but Jo just wouldn't allow it. (I could also hear Amy's disappointed voice in my head saying, "What do you mean you didn't try the caviar? You went to Petrossian!") Jo recommended the Transmontanus, which is a subtle, nutty, dark gray sturgeon roe that comes from Northern California. While I didn't LOVE it, I was surprised by how much I liked it. Feeling bold, I reached for the Salmon Roe, which turned out to be a mistake, at least for me. Just too briny/oceany for my virgin tastes. Manager Christopher Klapp explained that the larger egg size was the reason for the boost in flavor. The Man tried the Trout Roe (smaller eggs) and really enjoyed it, but I just couldn't bring myself to go back to the well. Perhaps another time when there's Champagne involved.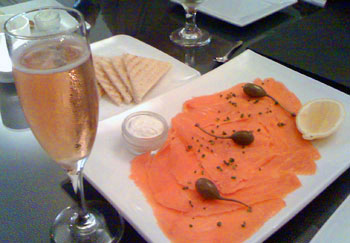 When the Man's plate of sliced Smoked Salmon with toast points and Creme Fraiche arrived, I was hoping for the best, but expected to dislike it. Wow, was I wrong. I had never tasted salmon like this and found myself going back for more. Petrossian harvests the fish from the North Atlantic and cold-smokes it for 5 days. It has such a pure, unfishy taste and melt-in-your-mouth, delicate texture that I started to dream up recipes in my head for its' use. There's a reason some things cost more: dedication to quality. Of course, I'm not sure the experience has helped my salmon-phobia overall, since it's going to be pretty hard to compete with this version.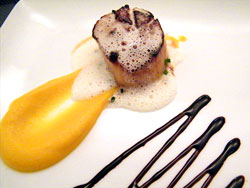 The rest of the meal passed by in a haze of deliciousness with the Crispy Shrimp "papillotte", Seared Scallops with Butternut Squash and Bacon Emulsion (still don't get the reasoning behind foam – all the flavor, fewer calories?) and Braised Short Ribs really standing out. The Black Truffle Mac 'n' Cheese was decadent, yet homey and the perfect size to order for the table. I tried two other high-end items that were new to me with varying results. I couldn't believe the Man ordered the Napoleon Beef Tartare with Caviar for his main course. Clearly we were both in an adventurous mood since this was a food classic he had never eaten before. While it didn't float my boat (can something be too "meaty"?), he devoured it. I was so full, I only ate half of my Short Ribs, so he got to have the leftovers. A win-win for him.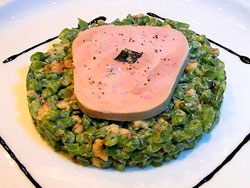 Jo insisted I try her Foie Gras Salad over Haricot Verts, which looked a bit odd, but was delightfully savory, yet fresh and crisp. It was my first taste of Foie. The dish delivered a lovely mouthful of textures that left me intrigued by this culinary treat. I can't forget to mention their Truffle Butter (which I ate off my knife because I had to try it and couldn't eat any more bread) and the Sicilian Pistachio Creme Brulee. I rarely eat dessert, but I'm glad I made an exception. It reminded me of the Pistachio pudding I had as a kid...with better texture and a powerful flavor along with it's perfectly burnt sugar topping. 


Since they only began dinner service a few months ago, the red wine selection is not quite complete yet, but Klapp is working on it. The list has broad Champagne choices (of course) and a very decent selection of white wines by the glass and bottle to compliment their initially lighter, lunch fare. With heartier dishes on the dinner menu, the red choices will be expanding over the next few months, but you're welcome to bring a bottle if you'd like (corkage is $15). The great thing about this classy, yet casual cafe is that it caters to more than just foodies with great salads, soups, roasted chicken and a Kobe burger with truffle fries (soooooo good) gracing the menu.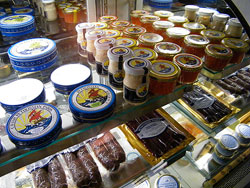 The service is friendly and unhurried, the decor clean and cosy. Plus, if you find something you like, you can just wander over to the shop side and continue the experience by taking a treat home. Caviar, chocolate and salmon, oh my! Just try to say no. Despite the company's decadent image, the Petrossian Cafe allows you to indulge in the good life without breaking the bank. We had such a good time, we ate there again last week, which is a restaurant miracle for us homebodies. Had to try the Duck Confit and Seared Foie Gras with glazed seasonal fruit, both of which melted in my mouth and almost trumped the Smoked Salmon. Almost. (We went back because we just had to have it again. Talk about turning a corner.) A neighborhood gem, I know we'll be regulars at. Next stop, brunch.
Petrossian Cafe & Boutique, 321 N. Robertson Boulevard, West Hollywood, CA 90048
(One block north of Beverly Boulevard.) Open Daily from 11am – 10pm (10am on Sat/Sun).
Lisa Dinsmore is a writer, web programmer, movie and wine lover. She currently runs two review websites to share her passions: www.crazy4cinema.com and www.dailywinedispatch.com. She is also the Managing Editor of One for the Table.