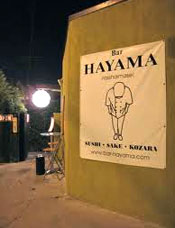 What is wrong with me? Why do I drive past intriguing places and keep on driving? Or, why do I keep going to the same places because I know them, they are familiar and safe?

My friend, another foodie, Andrea, had made a plan with me last night to try a Japanese restaurant. Then, she kept reading reviews online that scared her straight. This new Japanese usually costs $100 per person. She called me ahead of time to warn me and then told me she really likes this other place on Sawtelle. So now we really have two choices. When I hopped in her car, she navigated her way around the city in such a way as to end up directly in front of the alternative restaurant and not the original terribly expensive restaurant. I still don't know whether she did that on purpose, but I was hungry and said, lets just go in there. I had seen it before and it called to me. When she mentioned a place on Sawtelle I just thought it was Hide Sushi and I do already go there all the time. I like it but probably not as much as I love Hamasaku, which is my absolute favorite Japanese restaurant in all of Los Angeles. It too is a bit pricey and a bit show bizzy with all the rolls named after investors or regulars and those famous people are always scattered around the restaurant eating the very rolls that sport their name.

This new place that we walked into has a green wall surrounding it, my favorite green, a sort of an olive green. Already a good sign. Then you walk into a courtyard with a sushi/ish bar surrounding a fire pit. So cool. Andrea ordered for us at first. She asked what fresh sashimi they had. I have eternal mercury poisoning (yeah, yeah, another blog) so since most choices were tuna related we went for the Tazmanian salmon. I cannot even tell you how fresh and perfect the choice was. I mean I can tell you, I just did!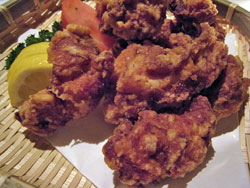 Then we ordered a few fried things. Popcorn shrimp with spicy mayonnaise. Fried oysters. Just as I was starting to feel a little fry- food -nervous, the adorable waitress with the quirky great sense of humor came over to say that since we really like FRIED FOOD!….we should order the special of the day, soft shell crabs. Then the waitress really laughed as she told us she was impressed with us for ordering so many fried dishes since most people in L.A. are so afraid of it. That only made me feel like I needed to balance this meal with vegetables so we got a seaweed salad.

Then I told the waitress I was completely in love with her and wanted her to date my son Oliver. She is just unique enough, like him. That's not really true, first she said something about her boyfriend and then I said "oh, that's too bad you have one because I was going to set you up with my son Oliver." The name of the waitress is Yumi. In her own words, " my name is Yumi, you know, like you and me".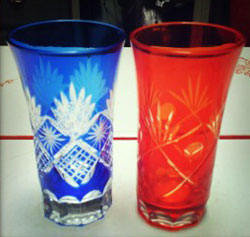 Before asking for the check we noticed these small colorful almost Moroccan looking glasses that maybe they served Sake in. I asked to purchase a few. And yes, I have been known in the past to admire what a waitress is wearing and ask to buy the uniform and have it put on my bill. So, this was really nothing new to me and I now own a few of those special glasses. When I walked in with them last night, my daughter accused me of being a hoarder. Guilty, maybe.
Bar Hayama: 1803 Sawtelle Blvd., Los Angeles, CA 90025