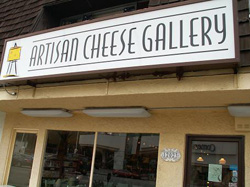 So, I was like, driveen in the valley 'n' stuff? And I like drove past a shop that said Artisan Cheese Gallery, 'n' stuff? And I was like "wait, did I just, um, this is like the valley, ok? And I think I jist saw sometheen with the word 'artisan' on Ventura Blvd.". No way, right? So, I go "maybe I'll jist turn around and check it out, right?" So, alls I wanted to do was see if I dint eemagine it?
So anyways, I turn around and park and go in. Let me tell you darlings, it was as if a magic wand was waved over me, imbuing me with all manner of sophistication. This was no ordinary cheese shop. It was a 'gallery' indeed. The light streaming in from the street reminded me of my days spent in the South of France (NOT). Wooden shelves lined with cheeses that were in their natural habitat of room temperature beckoned for my palate to take the journey. A sliver of Boschetto with Black Truffles from Italy brought on such a surge of ecstasy through my body, I could have used something to hold on to. A bedpost, perhaps? I closed my eyes with rapture as I allowed Brie Nangis from France to slowly dissolve on my tongue.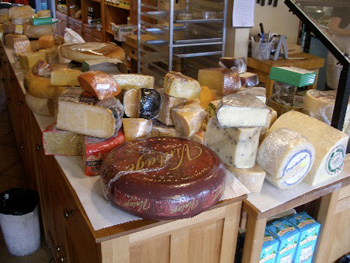 The assistants were most solicitous and the young woman who helped me was also responsible for baking a chocolate chip cookie being sold at the cash register. This cookie had a complexion of chocolate chunks that just screamed 'don't miss it!" And I didn't. The fellow checking me out casually mentioned that there was sea salt in the cookie and the deal was sealed. I think in the world of gambling, I might be what is known as a 'whale'. There were also red velvet cookies that were beautifully wrapped and displayed on a tiered wire basket along with other tempting candies. I barely got out of there alive.
Clutching my triple crème Brillat Savarin, my baguette and my cookie, I made my way to my car which was parked next to DuPars.
I told myself the cookie would make it home, but I wasn't facing reality. It was a totally bogus notion and I was screwed big time. Once, I like, unwrapped it, I was like, "woah, this is so, like in my mouth right now!" It was awesome. Seriously, dude.

Artisan Cheese Gallery
12023 Ventura Blvd.
Studio City, CA 91604
818-505-0207
Laraine Newman is a founding member of The Groundlings Theatre Company and an original cast member of Saturday Night Live. She lives in her hometown of Los Angeles with her husband and two daughters.