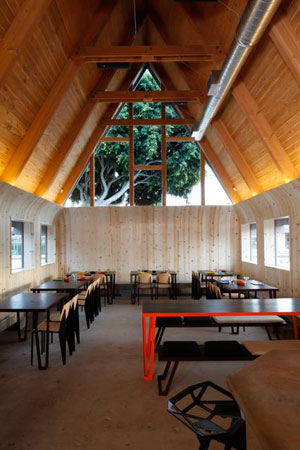 Last night One for the Table got a sneak peek into what promises to be Culver City's newest hot spot—A-Frame—the brainchild of restaurateur David Reiss and rockstar chef Roy Choi of Kogi BBQ fame. Like most of Choi's ventures, the menu reads like a sugar-crazed kid's take on gourmet cuisine. Blazin' Jay's kettle corn, sprinkled with furikake and mixed with Corn Pops, is a total guilty pleasure. And don't get me started on the milk chocolate dipped churros or the fried apple pie with cheddar ice cream.
My favorites, of course, veer on the lighter side. The crab cakes garnished with shiso leaves are plump and simple and the peel 'n eat shrimp is fresh and juicy, with just the right amount of citrus and salt. And don't neglect the Korean-style pickled side dishes, which, in true Choi fashion, veer from the traditional, featuring pears and endives alongside more expected vegetables, like radishes. And I have to admit the baby back ribs are worth getting your hands messy over and so is the totally indulgent carne asada torta (which should only be attempted if you have a serious appetite, and are maybe a little stoned).
And did I mention the bar? There's an extensive selection of craft beers on tap and unique, specialty cocktails. I recommend the Pek Pek.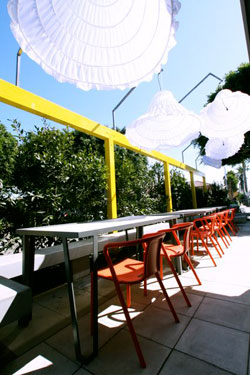 But the real star here is the design. Local design whiz Sean Knibb has done the impossible – turned a defunct IHOP into a sleek and sexy piece of modern architecture that seamlessly weaves outdoor and indoor space. Outside, white hoop skirts reimagined as chandeliers hang over Knibb's signature "urban meadow."
Inside, streamlined communal tables and surprisingly comfortable, concrete benches create a cozy, indoor picnic vibe, perfect for the tapas-style menu. But don't be fooled by the word tapas. There are no hefty price tags and nothing comes on a small plate (and if it does, the food is stacked high onto it). So come hungry.

A-Frame
12565 W. Washington Blvd., Culver City
(310) 398-7700
Kitchen Hours: 5pm-12midnight
Bar serves until 2pm
A-Frame website
Maia Harari is a writer and choreographer, born and raised in Los Angeles. You can follow her on twitter at www.twitter.com/maiacalypso