I don't get it, I really don't. Some people still think that London has lousy food. London has fabulous food. The city has seen an intense food revolution in the last 15 years or so, and cooks like Nigella Lawson, Jamie Oliver and Gordon Ramsay are stars here because of what they've accomplished there. You can now find superb food of every tradition, nationality, and ethnicity in London; food that reflects every new trend, political movement, and neurotic eccentricity; food at any and every price…for breakfast, lunch and dinner. So I was stunned the other day when I said to my friend Craig that I was going write a column on the best sandwiches in London, and he said, "There are no good sandwiches in London." This from a man who grew up there and has only lived here for 12 years!!!

So here is the first part of my rebuttal to Craig, a man who's clearly eaten one too many meals from a movie catering truck. And yet he might feel at home…given that you must order all of these standing outside on a line.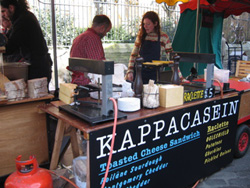 KAPPACASEIN, Borough Market, Southwark, SE1
Grilled Cheese Sandwich

Though your senses will be assaulted by all the choices you have at Borough Market, let's cut to the chase and start with the foodie-reknowned stand of grilled cheese guru and raclette master William Oglethorpe. He calls it Kappacasein; I call it The Big Cheese.

If your ideal sandwich is grilled Kraft singles on Wonder Bread, skip this paragraph; but for those who want a sublime mix of bold, artisanal cheeses, toasted to crunchy, oozy perfection, you've hit pay dirt. William starts with big, dense slices of bread from Poilâne, the revered French bakery that has an outpost in London. He adds a mixture of grated Montgomery cheddar, Keen's cheddar, and Ogleshield. On my last visit, he also added Remeker gouda. On top of that serious haystack, William adds some finely chopped red onion, white onion, shallots, chives and scallions.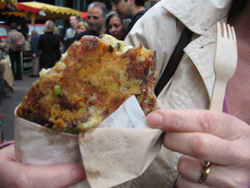 He grills this creation on a large, sizzling sandwich press, and as the cheese bubbles out from between the slices, he scrapes it off the grill and back onto the top piece of bread, where it creates new pockmarks of hot, cheesy crunch (see photo). Get ready for transcendence. This sandwich manages to be simple, straightforward and sophisticated at the same time. I was concerned that the onion mix might be overpowering, but it's mild and fragrant.
William is passionate about cheese (he's planning to buy his own cows himself, so that he can control his product from start to finish), and his commitment to excellence is realized in his unforgettably delicious sandwich, which is priced at a recession-perfect £4 ($6).

William also makes raclette: ogleshield cheese melted to a sizzle under custom gas burners and scraped over jersey white potatoes, with little pickled onions and gherkins. Excellent. Still, nothing does it for me like a great sandwich, not even potatoes.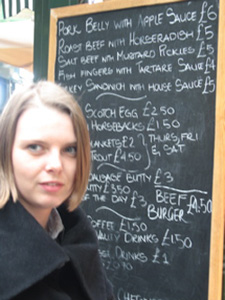 ROAST, Borough Market, Southwark, SE1
Roast Pork Sandwich
There are other roast pork sandwiches at the market that I haven't sampled, but after meticulous reconnaissance I chose this one to try, and I find no need whatsoever to try any others. This sandwich is so simple and so perfect that I really do not want to run the risk of wasting calories on a less-good sandwich. It's just sweet, juicy roast pork belly topped with luscious, crunchy, cracklings, on a roll smeared with applesauce. Groaning good. Lip-smacking. The best. £6 ($9). The only thing I can add is: go early if you want to avoid the line (see photo), or rest assured that it's worth the wait if you have to queue.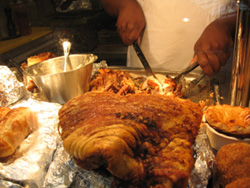 The bad news about these two Borough Market sandwiches is that you can't in good conscience – or at least with impunity - eat both in one lunchtime. But the good news is that means you will have to go back to the Borough Market for a second visit, and you have three chances a week to do that - Thursday, Friday and Saturday (yay!).
In some ways I preferred the less chic, branded and spiffified Borough Market of 10 years ago, when it was funkier, quieter and not ringed by restaurants and prepared foods. But there is still enough homemade, locally grown, earth-friendly, fair-trade, farmers' market consciousness left to make this one of the truly great, full-tilt, five senses, food paradises ever.
And I suppose that if it hadn't morphed in this way through the years, I would never have had the pleasure of Kappacasein's grilled cheese or Roast's pork belly with cracklings.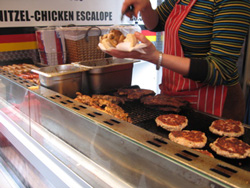 GERMAN FOOD TRUCK, Portobello Road Food Market, W11
Bratwurst Sandwich
At the bottom of the hill, just after the antiques market ends, the Portobello food market begins, and right at the start there is a white truck that says GERMAN FOOD. I do believe that this is where the centuries old, English custom of polite, orderly queueing met its demise. The secret here is elbows, used without remorse, to muscle your way to the front – there is nothing chic or refined about the food here, it's hearty and unpretentious.
There are several wonderful sandwiches to choose from, but my first choice is always their bratwurst with grilled onions. And mustard. But be forewarned that standard English mustard is very hot, so ask for French mustard if you don't want a startling surprise. And get ready for a juicy, messy, thoroughly inelegant, and utterly delicious sandwich. An insane bargain at £2.50 ($3.75).

Though there may not be a Nigella, Jamie, or Gordon cooking these sandwiches, I wouldn't be the least bit surprised to learn that they'd been to the market and loved them. And the next time my friend Craig goes to London, I'm going to bet him a dinner at Gordon Ramsay's that he'll love these sandwiches too.
Ilene Amy Berg (aka The Berger Queen) is a television producer, antique hunter, New York and London lover, and intrepid food adventuress.