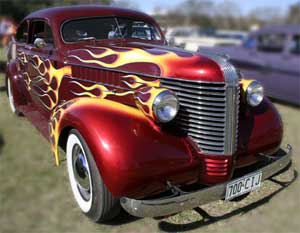 One of the things I feel is emblematic of being a California Girl is the love of cars. The Peterson Automotive Museum is having a Low Rider exhibit right now. Bitchen, right? Personally, I can't wait.
My earliest memory of the low rider culture was a song by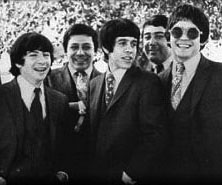 Thee Midniters, probably the first significant Chicano rock bands to come out of Los Angeles. They had several hits, like Land of 1,000 Dances, but anyone who grew up loving music and cars in the 1960s couldn't forget "Let's take a trip down Whittier Boulevard, yeehaa, Arriba , Arriba!" It's part of my DNA just as much as the love of surfing. In fact, when you listen to the song, it has that early surf sound. That reverb electric guitar Dick Dale made famous. But that's a whole other story for another time.

When I was 23, I was working in New York and I was terribly homesick. Homesick for my California culture. Being able to go to the beach….well, at least see it. Being able to cruise in my car and listen to my music. When I'd go to the movies in New York, if there were scenes of LA, I'd get a lump in my throat. And if I happened to hear "Low Rider" by War, I would swell with pride at the idiosyncratic romance of my town.
There's a certain self -determination about driving if you come from a car culture and having that taken away can feel like prison. That's how I felt in New York.

Part of it is the Latin culture that's so entwined in the romance of California lore. (One of my favorite books is Lotus Land. An historical novel set in the early days of California, centered around a Spanish Land Grant family.) Everything in New York was so….well….formal. And the cars certainly reflected that. Cabs and limos. You sure as hell weren't gonna see a lowered Lincoln Town-car, although that would have been cool!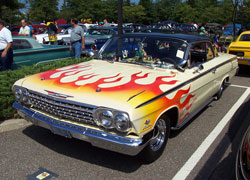 The low rider drove cars that were 'chopped and channeled". You had your classic "bombs" which usually looked like a dark creature rumbling slowly down the street. The top of the car would be chopped so low; the windows were merely slits and windshields looked like the long drawn gritting smile of someone being electrocuted. Then you had your Chevy Impalas, which were sleek and had a forward trajectory that was the height of cool.

I'm not sure when the whole flame thing came in, but that too is an original art form we owe to the Pachucos. It's powerful and defiant. This isn't just folk-art. It's something else entirely. To me, there's something noble about the marriage of art and mechanics that is surely self-taught.

Then, of course, there was the food. Those jokers in New York had no clue when it came to Mexican food, no matter how hard they tried. They didn't know from Pinto beans, often putting black beans in their "Mexican" food, missing the point entirely. What is this, Cuba?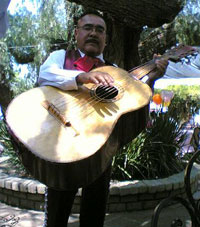 In the 70s, there were three Mexican restaurants I frequented. El Coyote, La Fonda and Lucy's El Adobe. I'd heard about Lucy's from my friend at the time, Linda Ronstadt. I know, I'm name-dropping. Sting tells me I do that a lot.
Van Dyke Parks took me to La Fonda. He knew I'd love the music there. I did. Instruments I'd never seen before, specifically for Mariachi. The guitaron, a huge guitar, I guess you'd call it a base guitar, a tijuela, a miniature guitar with an angelic harp-like sound. And the incomparable joy of the trumpets and violins blended together for an experience of living history. Sadly, La Fonda closed just recently. El Coyote features 'chicas' that look more like 'duenas' gallivanting in peasant, off the shoulder blouses and huge skirts. The food there, although produced on a massive scale, is still quite good. And Lucy's still makes the best Tostada in town.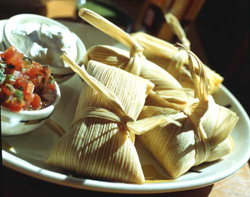 But The Border Grill is a real celebration of Latin culture. I remember when Susan Feniger and Mary Sue Milliken had their little place on Melrose next to LA Eyeworks. They were the first people I knew that seemed to be anthropologists of Mexican cuisine.
Nobody had ever tasted stuff like this. Green corn tamales with sour cream. Soft tacos were completely unheard of at the time, let alone turkey and fish tacos. Watercress and Jicama salad. Their guacamole was simple. Just the avocado, some lime and salt. Los Angeles has always been a place of innovation and originality. We have the Latin influence to thank for a lot of what makes LA cool.

I'm thinking of putting flames on my Prius. Our auto-body guy Juan, a real artist, had a great idea. He said he could do flames on the front of my car, but when you look close, they'd be tree vines. You know, the whole 'green' thing. Bitchen.
Peterson Automotive Museum
6060 Wilshire Blvd.(at Fairfax,)
Los Angeles, CA 90036
Border Grill Santa Monica
1445 4th Street
Santa Monica, CA 90401
310.451.1655
Border Grill Las Vegas
Mandalay Bay Resort and Casino
3950 Las Vegas Blvd. South
Las Vegas, NV 89119
702.632.7403
Laraine Newman is a founding member of The Groundlings Theatre Company and an original cast member of Saturday Night Live. She lives in her hometown of Los Angeles with her husband and two daughters.