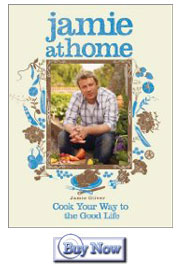 My son Ethan and I once tried to cook our way through Jamie Oliver's Italy—he was going off to school and had some delusional fantasy that there would be a kitchen in his dorm (not!) and that he would be able to cook for his friends and his girlfriends and somehow simulate some of the cuisine he was accustomed to... It was great. Everything we made was perfect. I don't even like swordfish and Jamie Oliver's swordfish is one of the best things I've ever had. He thinks "fruit is lovely", he uses words like "drizzle" and you sort of feel like he's in the kitchen with you.

So, I was really excited when Jamie Oliver's new book "Jamie at Home" arrived in the mail. And it's xmas and it's chaotic and I haven't had time to even begin to cook my way through it. But I'm really pleased that they're allowing us to excerpt some of Jamie Oliver's new recipes.

We're going to try his recipe for Orchard Eve Pudding at our Xmas dinner.