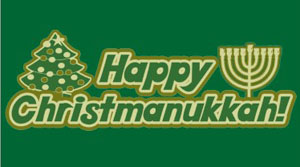 I was never walked into a temple. Never. Not by my dad, the Jew. I thought being Jewish meant eating lox, bagel & cream cheese in a deli. Because that's what my dad, the non-religious Jew told me. When we ate at Nate n' Al's, he would announce loudly as he seemed to be pointing to the food, "We're Jews!!!"
I sang with my friend Cindy Lou Carlson in her church for the Christmas pageant. Those rehearsals alone put me in a church more times than I was ever in a temple – at least until my kids and step-kids became B'nai Mitzvah.
I'm assuming my mom was some sort of Christian, but your guess is as good as mine. She never walked us into a church and never spoke of any religion. So, there you go, two parents – one gentile, one Jewish – who offered zero religious guidance. We called ourselves half-and-half. This was pretty commonplace in Beverly Hills, though each family would often choose a side and go to temple or church. Christmas or Chanukah.
We celebrated Christmas, tree and all. Show business was up and down and some years we had big-time gifts. The trees were bigger in those years. At other times we might have skimpy trees with few gifts.