I've always wanted to make a yule log or Bûche de Noël for Christmas. This year I vowed I would. Here is my updated version of the traditional holiday cake. Instead of the more common génoise made with eggs and sugar beaten over a bain marie, flour, and melted butter, I decided to make a flourless cake. Simply made with sugar, eggs, and ground walnuts, this recipe results in a light and nutty sponge cake. The filling of chestnut purée and a little bit of rum is my favorite kind. And the frosting is a traditional chocolate buttercream.

Hungarian in nature, this recipe is loosely inspired by the logs my great aunt used to make whenever we visited her in Hungary. I think you will find this cake to be highly irresistible. One thing to note: Since the cake is flourless, it does shrink after baking.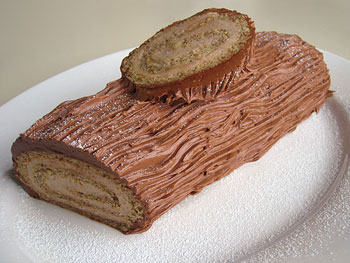 Walnut Yule Log with Chestnut Filling and Chocolate Buttercream

6 large eggs, separated
6 tablespoons confectioners sugar, sifted
1-1/4 cups ground walnuts
1 teaspoon baking powder
Preheat oven to 350 degrees F. Butter a rimmed baking sheet, line with parchment paper, and butter again.
In a small bowl, beat egg yolks by hand. In another small bowl, stir together dry ingredients: ground walnuts and baking powder.
In a stand mixer fitted with the whisk attachment, beat egg whites, adding sugar a little at a time, until soft peaks form. On low speed, drizzle in egg yolks. Fold in dry ingredients by hand until just combined.
Spread mixture evenly into prepared baking sheet. Bake for about 15 minutes or until edges are lightly golden. Immediately turn cake out of baking sheet onto a linen towel. Remove parchment paper and flip cake so that bottom is in contact with towel, and roll cake with towel. Set aside for at least 20 minutes, so that cake takes on rolled shape.