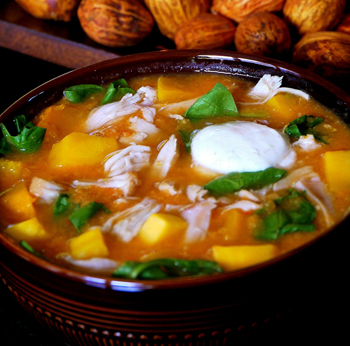 Many of my childhood Turkey Day recollections remain centered on gravy. I know it sounds strange but I loved gravy as a kid. I remember pouring it, in somewhat epic proportions, making a gravy soup of everything on my plate. There never seemed to be enough to go around as the gravy boat made its way around the table; all my family members taking their equal share. Undoubtedly the gravy was also scarce for the upcoming endless week of heated up turkey and stuffing as well.
Now, as an adult, there is only one thing I love more than Thanksgiving dinner…ironically, it's the leftovers. I welcome the challenge of creating something completely different from what was served the night before, especially because the gravy is still always lacking. Besides making a hearty turkey pot pie, there are a lot more possibilities to Thanksgiving reruns than tired turkey sandwiches and reheated potatoes.
Turning the usual excess of turkey meat into a soup is a great idea, helping to warm all those who ventured to the mall on the day-after. I believe of all the squash out there, butternut is definitely one of my favorites. I love its color and sweet taste. Putting this together with fresh corn kernels and tortillas and then pureeing those, makes for a nicely textured, sweet tasting soup. Your family will not believe this combination came from the turkey served only a day or two before.
Enjoy sprucing up your leftovers this year while taking things from boring to brilliant. You'll be glad you did.
Turkey-Butternut Tortilla Soup with Zesty Lime Sour Cream

For the soup:
3 cups cooked turkey, shredded
1 (2 lb.) butternut squash
1-1/4 cups onion, chopped
1 cup fresh corn kernels (2 ears)
4 garlic cloves
1 jalapeno, seeded
3 Tablespoons olive oil
3 corn tortillas cut into 2" squares
2 cups Roma tomatoes, seeded, chopped
3 Tablespoons tomato paste
1 Tablespoon ground cumin
6 cups chicken broth
6 ounces baby spinach
Salt and pepper to taste

For the sour cream:
½ cup sour cream
1 Tablespoon lime juice
Zest of one lime
¼ teaspoon ground cumin

To get started, parbake your butternut squash first. This will make it easier to remove the skin and cube it up for the soup. The squash will not be completely baked when you remove it from the oven but simmering it in the soup will take care of that.

Prick the skin of the squash all over with a fork; this will keep it from exploding. Place in a 350 degree oven for an hour. Let the squash cool until it's easy to handle, and then remove the skin and cut into cubes. You will need about 4 cups.

In a food processor, pulse onion, corn kernels, garlic and jalapeno until a thick, choppy consistency is reached.

In a large stockpot, heat oil over medium heat. Add tortillas and sauté them until crispy around the edges. Stir in corn-onion mixture, tomatoes, tomato paste and cumin. Simmer 7 minutes while stirring often.

In the stock pot, add chicken broth and butternut squash; bring to a boil and simmer 15 minutes. Transfer small batches to a food processor and puree until smooth. Return the soup to the pot and bring to a boil; reduce heat and simmer for 10 minutes.

Stir in spinach, cooking until wilted. Add turkey and remaining squash; simmer 5 more minutes. Salt and pepper to taste.

In a small bowl combine sour cream, lime juice, lime zest from one lime and cumin. Stir all ingredients together.

Transfer soup to individual serving bowls and top with zesty lime sour cream.

Makes about 10 cups.