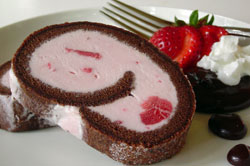 I'm quite sure it's in the genes. I know I got the ice cream-loving gene from my dad who got the gene from his mom. It's that gene that forces me to direct my husband miles out of our way just to visit an ice cream store that makes their own ice cream. That same gene has been known to cause cravings that send me to bed with a spoon and a pint of my favorite frozen cream. I can eat ice cream morning, noon and night and never get enough. I can't help it – it's in my genes.
Fortunately for me, my sons each have the gene. Those with this specific ice cream gene like to hang out with others who have the gene. Both sons chose ice cream-loving wives. So far, it seems each grandchild has been gifted with the gene. Oh, I am lucky to have so many who are always ready to share a cold dreamy treat. Did I say share? I didn't mean it. My friends and family all know that I'll share just about anything – except ice cream.
It's hard to beat the quickest way to satisfy an ice cream craving – eating it right out of the carton. But Cake and Ice Cream Roll-Up may start some new cravings on its own.
I had my first taste of the thin chocolate cake a long time ago when a friend served it with a mocha-flavored whipped cream filling. It was a melt-in-your mouth, not-too-sweet marriage of chocolate, coffee and cream that sent my eyes rolling up into their sockets. The only thing that could make it better would be thick layers of my favorite ice cream between the wafer-thin layers of rolled cake.
The Cake is made of common ingredients you probably have in your kitchen right now. The batter bakes for only 12 minutes. Once the hot-from-the-oven cake is rolled in a clean kitchen towel, it doesn't take long to cool to room temperature. Slightly softened ice cream is easy to spread on the cooled cake before rolling it all up and placing it in the freezer until it is firm.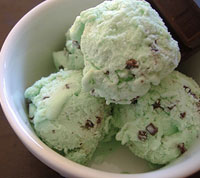 One of the best things about this dessert is that you can use any ice cream you like. My list of possibilities continues to grow longer. Mint Chip ice cream is a perfect match with chocolate cake and fudge sauce. Or how about coffee ice cream? It makes the chocolate Cake Roll-Up become a comfort food. Of course, chocolate almond ice cream is good. And coconut ice cream is absolutely divine nestled into the Roll-Up and topped with Fudge Sauce. I'm sure you'll come up with your own favorite combination of cake and ice cream all rolled up together.
Anyway you roll it, Cake and Ice Cream Roll-Up becomes a sophisticated dessert served with a puddle of warm Fudge Sauce and a little pillow of whipped cream. And just one Roll-Up can satisfy the any-day cravings of a large family blessed with the ice cream-loving gene.
Cake and Ice Cream Roll-Up with Fudge Sauce
Cake:
4 large eggs
3/4 cup sugar
1/2 teaspoon pure vanilla extract
1/4 cup all-purpose flour
1/4 cup unsweetened cocoa plus extra for preparing pan
1/4 teaspoon baking powder
1/4 teaspoon salt
2 pints ice cream of choice, softened
Fudge Sauce:
1 tablespoon butter
1/4 cup sugar
1/2 cup evaporated milk
1 cup semisweet chocolate chips

Preheat oven to 350 degrees. Grease a 15- x 10- x 1-inch jellyroll pan and line with waxed paper. Butter the waxed paper and dust with extra cocoa powder. Set aside.
In mixing bowl, beat eggs until thick and lemon colored. Gradually add sugar, beating until thick. Add vanilla. Sift flour, cocoa, baking powder and salt together. Add to egg mixture and mix at low speed just until dry ingredients disappear and mixture is smooth. Pour batter into prepared pan. Bake at 350 degrees for about 12 to 13 minutes.
While cake is baking, place a large clean kitchen towel on work surface. Sprinkle a few tablespoons of sugar in a 15- x 10-inch rectangle on the towel.
Remove cake from oven. Immediately loosen from sides of pan and turn out onto sugar-coated towel.
Carefully peel off waxed paper. Starting at long end, roll up cake and towel together. The towel will be inside the cake roll, creating layers that will later be made of ice cream. Cool on a wire rack, seam side down. This procedure will make the cake easier to roll up with the ice cream.
Unroll cake and remove towel. Spread softened ice cream on cake and reroll (without the towel). Wrap in plastic wrap and freeze for at least 4 hours. Serve each slice with warm Fudge Sauce. Makes 12 to 15 servings.
To make Fudge Sauce, melt butter in small saucepan. Add sugar and evaporated milk. Heat and stir until mixture comes to a full boil. Remove from heat and add chocolate chips. Stir until smooth.

One more thing –
You may want to make two batches of Fudge Sauce. When leftover sauce is stored in the refrigerator, it firms up but is still soft enough to scoop out with a spoon whenever you're having a craving for chocolate. It is like soft, creamy fudge. You'd better be careful. One spoonful leads to another.
Sue Doeden is a food writer based in Bemidji, Minn. Her columns, recipes and photos appear weekly in select Forum Communications Co. newspapers. She also appears on Lakeland Public Television's Wednesday newscast at 10 p.m., and teaches cooking classes. Her recipes can be found online on her blog Sue Doeden's All about Food.