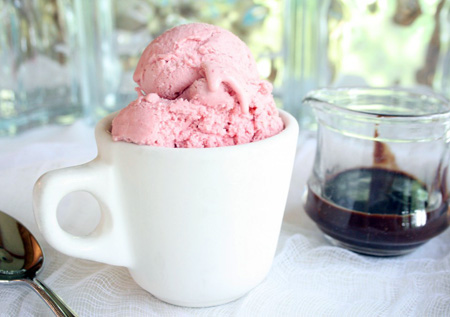 Mother Nature couldn't have planned a better time to blast us with heat and humidity. After all, July is National Ice Cream Month. In 1984, President Ronald Reagan said so. He also claimed the third Sunday of July will always be National Ice Cream Day. Thank you very much, but I don't need to wait for a specially designated month or day to enjoy ice cream. It's one of my favorite indulgences — any day. Or, everyday! It doesn't have to be a hot day to scoop up a big bowl of ice cream, but it is the perfect frozen treat to bring the body temperature down.
I accidentally brought home a one-pint carton of Organic Valley French Vanilla-flavored half-and-half last week. I meant to grab a carton of the plain old stuff — my husband can't drink coffee without it. He doesn't like added flavor — just added fat.
So, when life hands me French vanilla half-and-half, I make ice cream. Ice cream with fresh-picked, sun-kissed, sweet strawberries. Lots of creaminess from a generous dose of fat. Don't count the calories. Just indulge, enjoy and stay cool! There's still a lot of ice cream month left on the calendar :)
Oh, what a great mistake I made!
Old-Fashioned Strawberry-French Vanilla Ice Cream
3 cups fresh strawberries, cleaned, stems removed
2 large, fresh eggs, preferably local
1 1/4 cups sugar
2 cups Organic Valley French Vanilla half-and-half
1/4 teaspoon vanilla extract
1 cup whipping cream, preferably organic
Wash strawberries. Remove and discard caps. Puree berries in blender or food processor. Set aside.
In a large bowl, beat eggs until thick and lemon-colored, about 5 minutes. (This is where an electric stand mixer comes in handy.) Beat in sugar, half-and-half, vanilla and whipping cream. Stir in pureed strawberries. Pour into ice cream canister. Freeze, according to manufacturer's directions. Makes about 2 quarts.
P.S. A drizzle of your favorite chocolate sauce is exceptional on this Old-Fashioned Strawberry-French Vanilla Ice Cream.
Another P.S. If you are concerned about using uncooked eggs in the ice cream you may want to buy pasteurized eggs from the store. I feel comfortable using local eggs from a farmer I know and trust.
Sue Doeden is a popular cooking instructor, food writer and integrative nutrition health coach. She is the host of Good Food, Good Life 365 on Lakeland Public Television. Her own hives full of hardworking bees and her love of honey led to the creation of her recently published cookbook, Homemade with Honey.