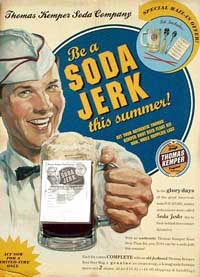 She leans in toward me, her elbows on the counter. She is tall, blonde, and very slender. She's wearing a tight black skirt and a white blouse open one button just past modest. A maid's apron circles her waist. She begins to speak but I raise my hand and gesture for her to wait. I am listening to the teenage girl with the long legs and short shorts standing to the blonde's left. She is a regular but, tonight, she wants more than usual.
"I want my pint of chocolate chip but I also need a cheese steak, to go and a regular hoagie without onions. They're so busy at the sandwich counter, can't you take my order?"
I glance up at the girl's pleading eyes, avert my gaze, and utter a whispered "Yes" while I nod toward the blonde and motion for her to speak
"Banana Royale with chocolate and coffee, no nuts, Black and White milk shake, extra thick, Hot fudge sundae with chocolate mint and butter pecan, dry nuts, and a waffle special with strawberry and vanilla fudge."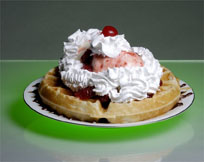 I turn my back to the crowd watching in awe, pour the waffle batter, line up my glassware, pump the chocolate syrup into the metal shake container, grab my scoops, and serve up the blonde's order and the girl's loose packed ice cream to go. A seamless performance, all flavors in their rightful place, with toppings as ordered. I am the world's most brilliant soda jerk. Infinite combinations arranged with total recall. When it comes to ice cream, I am a double dip icon, a banana split phenomenon. I am hot fudge with or without whipped cream. But beyond this counter, I'm merely an ice-cream idiot savant. When it comes to eye contact with that girl, or any girl. or flirting with that blonde, I am nearly autistic.
This is the Tyson Grill: a luncheonette, ice cream parlor, hoagie haven, and purveyor of pizza steaks with mushrooms, grilled onions, and hot peppers. We are the place to be on a hot Northeast Philadelphia Friday or Saturday summer night, the place to bring your honey after the movie or after the Phillies' game, and the place where guys meet to compare notes after their dates have gone to bed.
I'm sixteen and in the third year of what will be an eight-year tour of duty. In the summer, I'm here most weekends. I have succeeded my brother in this job. I make $1.75 per hour plus tips and all I can eat. My mother insists that I save every penny I earn, and I, the good boy that I am, obey.
I walk here from home about a half mile away taking a short cut through the grounds of my old elementary school and I retrace my route walking home alone after we close at 2 A.M.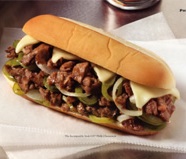 The luncheonette anchors the end of a block of row homes. Bob, one of the owners, a soft pliable man, lives upstairs with his wife and stepdaughters. He and his brother-in-law, Cy, a bear, are partners. They oversee operations from behind the sandwich and hoagie counter. Cy had taken me through Soda- Jerk basic training. He watched me dip and weigh my scoops for cones ("No more than three ounces, Boychik!") and taught me to pile ice cream on waffles with a mountainous shape that was mostly air. He'd salute me with a conspiring wink and a lift of the cigar in his hand, when my waffle arrived at the table to a loud chorus of "Oohs" and "Aahs" from a group of deceived but very happy customers.
Bob's older stepdaughter, Anita, a bleach-blonde princess, parades through the restaurant every evening on her way to or from home. I am witness to her blossoming adolescence, and she has a continuing lead role in my unrequited, vastly populated, adolescent fantasy life.
The waitresses have supporting roles: Barbara of the tight black skirt, "Are Youse ready to order?" Marie, and Flossie, the owner's cousin, zaftig and divorced. Between the dinner rush and the late night crowd, we sit together in a back booth reserved for the staff. We eat. We talk. They smoke. I get horny. I have this one break during my long shift. They take frequent smoking breaks. I'm jealous.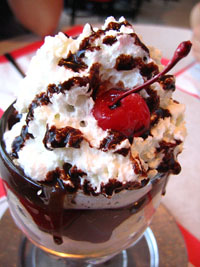 The teenage girls who stand three deep at my counter for take-out and ice cream cones and the girls out on dates with obvious schmucks who don't come even close to my level of wit and charm guest star in my "if-only" daydreams.
And then, there is Shelby: lovely, smooth skinned, breathtaking Shelby, who sits at the end of my counter most Friday nights, alone, licking the cone I've just handed her or spooning a junior sundae past those lips. She is so very far out of my reach, I can't even conceive of a place for her in my fantasies, and I am without doubt not worthy of hers.
Months from now, when Shelby has stopped coming in, Flossie will look me in the eyes, and wonder out loud what the hell is the matter with me.

"Don't you realize, you Putz, what Shelby was doing sitting there every Friday night? She came in for you, not the ice cream."