From the New York Times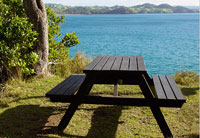 There is something both innocent and exciting about a picnic, even if you are only packing a few things at the last minute and heading down the street to the park. It may be nothing fancier than bologna or tuna salad on white bread, but you're still likely to have a good time, which is probably why many of us remain devoted to the same picnic foods we've eaten all our lives.
But at some point, you may get the urge to vary the menu a bit. With that in mind, I'd like to make a few — or, actually, 101 — suggestions, ranging from snacks to dessert. With a little shopping, a little effort, and 20 minutes or less for assembly, you can create the kind of carry-out food that will put the local prepared food shops to shame while saving you a small fortune. No matter how faithful you are to your old favorites, I'll bet you will find something intriguing here.