While eating at a pretty divey but good bbq joint in the industrial section of town, I was missing you terribly and smiling because I kept hearing an old conversation of ours in my head...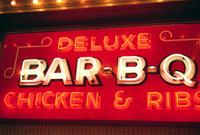 AMY
I'm starving. What should we eat?

LISA
Something light, I think.
I'm only slightly hungry.

AMY
Ok. How about BBQ?

LISA
That's your idea of something light?

AMY
Oh, you know me.

LISA
Yep.
Wish you were here with me.
Hope all is well.
Love, Lisa