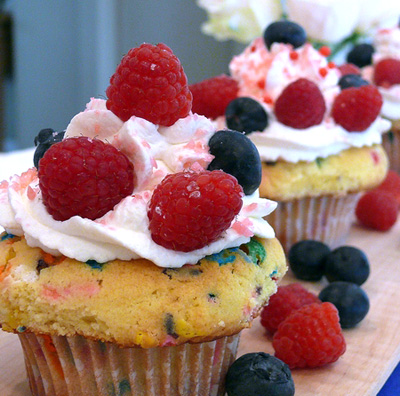 Yep, the kids have elevated me to the likes of Albert Einstein. Up until yesterday they thought of me as dull, boring, blah. I couldn't be more of a plain Jane to them.
But when I made these FIRECRACKER CUPCAKES and sprinkled POP ROCKS all over them you would have thought I just invited the circus over to perform. I instantaneously became the coolest, hippest and craziest Mom evah. The hooligans couldn't have been more pleased.
What makes me mad is I didn't think of it first. It's so simple. I saw it in the newspaper as a fun way to celebrate the upcoming 4th of July holiday. Brilliant I thought. A firework show in their mouths.
As the kids ate away, their mouths were exploding with candy and their noses and cheeks were covered in whipped cream. Their day could not have been better.
The trick is to pour the POP ROCKS on just before serving or better yet, give each person their own pack. If you are stingy with the POP ROCKS the full effect of this dessert will not be realized. Be generous!
Adults would like them too. It was fun eating the cupcake and having tiny explosions going off in my mouth and throat. A nice reminder of childhood.
From the second these treats came out of the oven they were circling the kitchen island like a pack of hungry wolves. Everytime I turned around they were picking away at the edges of the cupcakes. Having to wait while I photographed the goods was the ultimate punishment.
I think these would be the perfect cupcakes for a birthday party too. The kids would just love it.
Do they have POP ROCKS in other countries or is this a U.S.A. only phenomenon?
Anyway, I made cupcakes from scratch, which is totally not necessary, unless you are having a Martha moment. I also used whipped cream for the topping but canned frosting would be fine too! So would store bought cupcakes for that matter! The POP ROCKS are the main attraction here.
But this is a great cupcake recipe, so come on and bake with me. The kids and adults in your life will LOVE YOU!
Happy Birthday U.S.A. "You're a grand old flag, you're a high flying flag, and forever in peace may you wave."
Firecracker Cupcakes
Adapted from Patrick Decker
2-1/2 cups all-purpose flour
2-1/4 teaspoons baking powder
1/4 teaspoon salt
1-1/2 sticks unsalted butter
1-1/4 cups sugar
8 egg yolks
2 teaspoons vanilla, divided
1 cup milk
1/2 cup rainbow candy sprinkles
2 cups heavy cream
1/2 cup powdered sugar
About 3/4 cup blueberries, to garnish
About 3/4 cup raspberries, to garnish
Lots of Pop Rocks
Preheat oven to 350 degrees F.
Line 12 muffins tins with paper baking cups.
In a medium bowl, sift together the flour, baking powder and salt, then set aside.
In a large bowl, use an electric mixer to cream together the butter and sugar until the mixture is fluffy, substantially increased in volume and lightened in color, about 3 minutes.
In another large bowl, use an electric mixer with clean beaters to beat the egg yolks and 1 teaspoon of the vanilla until thickened and pale in color, about four minutes.
Add the beaten egg yolks to the butter-sugar mixture and mix to combine.
With the mixer on low, add a third of the sifted dry ingredients to the wet ingredients.
Once mixed, add half of the milk, followed by another third of the flour. When well mixed, add the remaining milk, mix, then add the remaining flour.
Use a silicon spatula to scrape the sides and bottom of the bowl to ensure all ingredients are mixed in. Gently fold in the sprinkles.
Fill the prepared muffin tins with batter. Cook until a skewer inserted at the center comes out clean, about 22-25 minutes. Do not over bake.
Transfer to a wire rack and cool completely.
Just before serving, in a large bowl combine the heavy cream, powdered sugar and remaining vanilla. Use an electric mixer to beat until thick.
Dollop or pipe whipped cream over each cupcake, then garnish with blueberries and raspberries.
Sprinkle each cupcake GENEROUSLY with POP ROCKS. Or serve each cupcake with it's very own pack of POP ROCKS which is what I would do!
Have fun with these, they seem to provoke a good time.
Cathy owns a vineyard and winery in the Willamette Valley of Oregon. She is a food writer for Davis Life Magazine and blogs daily about wine, food and everyday living. She lives with her husband and two sons. You can visit her at noblepig.com.