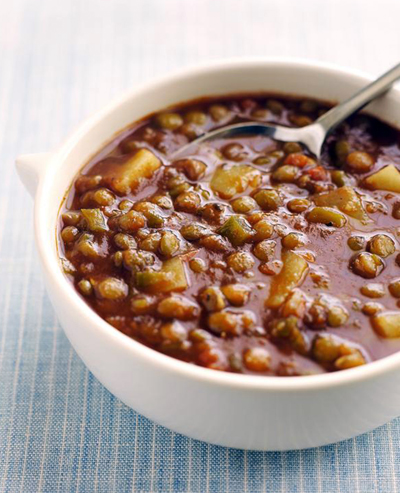 1 cup dried lentils
1¼ quarts (5 cups) low-sodium chicken broth, homemade or store-bought
1 onion, finely chopped
1 stalk celery, finely chopped
1 carrot, peeled and finely chopped
1 garlic clove, minced
1 green bell pepper, cored, seeded, and finely chopped
2 cups tomato sauce
½ teaspoon dried basil
1 teaspoon kosher salt
Freshly ground black pepper
1 small potato, peeled and roughly chopped
½ teaspoon curry powder
Rinse the lentils well in a colander and pick over and discard any discolored lentils or debris.
In a large, heavy soup pot or Dutch oven, combine the lentils, broth, onion, celery, carrot and garlic. Bring to a boil, then reduce the heat to low and simmer, covered, until the vegetables are just tender, about 30 minutes.
Add the bell pepper, potato, tomato sauce, curry powder, basil, salt and black pepper to taste. Continue to simmer until the potato is cooked, about 15 minutes more.
Ladle into warm bowls or tall mugs and Serve.
Recipe reprinted with permission from Mr. Sunday's Soups © 2011 Lorraine Wallace. Published by John Wiley & Sons, Inc. All Rights Reserved.