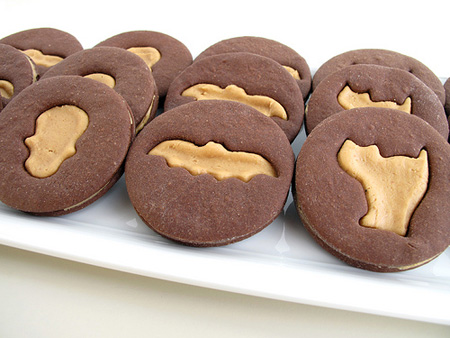 Chocolate sandwich cookies were my favorites as a kid. Though I haven't had them in years, I still crave them. To settle my sweet tooth this Halloween, I decided to create my own grown-up version with a peanut butter filling. They are far better than the ones I remember eating as a kid. And I'm sure if you give kids a choice between these and the store-bought kind, they will choose these. Don't be fooled though, these cookies may look whimsical with their fun cut-out shapes but they are just as much made for the adults as the kids.
This quick dough can be put together in minutes and made even a couple of days ahead of time. Rolling them may get a little sticky, so be sure to flour the board and then simply dust off the excess before baking. At the slightest sight of stickiness, just slip the dough back into the refrigerator or better yet the freezer. The best part comes when filling them. I like the cookies with just a bit of filling, but feel free to spread as much as you like. They go great with milk and if you're so inclined twist one apart and lick the filling. Sometimes it's great to feel like a kid again.
Chocolate Sandwich Cookies
1 cup all-purpose flour
1/4 cup cocoa powder
1/4 teaspoon baking powder
5 ounces semisweet chocolate, finely chopped or chips
3/4 teaspoon instant espresso powder
1/2 teaspoon pure vanilla extract
4 tablespoons (1/2 stick) unsalted butter, room temperature
1/2 teaspoon salt
1/4 cup granulated sugar
1/4 cup packed light-brown sugar
1 large egg
peanut butter filling, recipe follows
Sift together the dry ingredients: flour, cocoa powder, and baking powder.
On medium-low heat, melt the chocolate in a heat-proof bowl over a pot of simmering water. Off from heat add espresso powder and vanilla; mix to incorporate. Let cool.
In a stand mixer fitted with the paddle attachment, beat the butter, salt, and sugars on medium speed until light and fluffy. Add egg and mix until combined. Fold in melted chocolate. Add the dry ingredients a little at a time on low speed, scraping down the sides of the bowl. Mix until combined.
Form dough into two discs and wrap in plastic. Refrigerate for at least 1 hour before rolling.
Preheat oven to 375 degrees F. Line baking sheets with oven-safe parchment paper or Silpats.
On a well-floured work surface, roll out one disc of dough to about 1/8-inch thickness. Keep second disc in refrigerator until ready to roll. Cut out cookies and transfer to lined baking sheet, arranging no more than 1 inch apart. Dust off excess flour. Cut out centers of half the cookies. Reshape scraps of dough into a disc, wrap in plastic, and keep in refrigerator until ready to roll again.
Bake cookies for 8 minutes. Let cool completely. Spread cookie bottoms with about 1 teaspoon of peanut butter filling and cover with top, squeezing together and removing any excess that comes out. Yield: 24 sandwiched cookies.
Peanut Butter Filling
4 tablespoons (1/2 stick) unsalted butter, room temperature
1/2 cup creamy peanut butter
3/4 cup confectioners sugar
In a stand mixer fitted with the paddle attachment, beat together the butter and peanut butter until well combined. With the mixer on low speed, add the confectioners sugar a little at a time. Mix until incorporated. Increase the speed, continuing to mix until light and fluffy. Yield: 1 cup filling.
Joseph Erdos is a New York–based writer and editor, butabove all a gastronomer and oenophile. He shares his passion for foodon his blog, Gastronomer's Guide , which features unique recipes and restaurant reviews among many other musings on the all-encompassing topic of food.