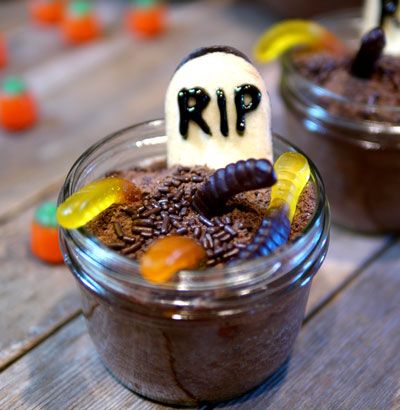 The countdown to Halloween is well under way and we are enjoying a few holiday treats! I celebrate Halloween all month because I love it!! I also love mason jars, which goes back to my love of glass storage containers.
And honestly, these couldn't be easier to make and will impress your little Hallow-weenies at home. My boys love anything for Halloween that is remotely gross, which is why the Kitty Litter Cake has always been so big around here. The idea of worms coming out of a pretend grave is also right up their alley.
I wish I could take these to their Halloween party at school, but we are no longer allowed to bring homemade treats. Such a bummer.
You want to make sure your mason jars are washed and completely dried before you begin. I used 1/2 pint wide mouth jars. They are the perfect size.
Filling the jars half full of batter allows the cakes to puff up nicely, leaving enough room for the topping and candy. I don't have a lot patience with decorator gel but I did the best I could. By placing the gummy worms in first, it is easy to spoon the graveyard crumbs around them. How cute are these? They will be a hit with your family too!
Mason Jar Graveyard Spooky Cakes
Recipe Created by Noble Pig | Serves: 11 cakes
Ingredients:
1 Devil's Food Boxed Cake Mix or other chocolate flavor
10 sheets chocolate graham crackers, pulverized into crumbs
1 cup chocolate frosting
1 tube black cake decorators gel
11 Pepperidge Farm Milano Cookies
44 gummy worms
chocolate sprinkles
Directions:
Prepare cake batter according to package directions. Spoon batter into 11 (1/2 pint) mason jars, until they are half full (not more). You do NOT need to spray jars with cooking spray. Wipe off any excess batter from inside or outside of jars. Place all filled jars on a large, rimmed baking sheet and bake for 25 minutes in a 325°F oven or until toothpick in the center comes out clean. Let cool completely.
Place chocolate frosting in pastry or Ziplock bag with a wide mouth pastry tip. Poke tip into top middle of each cake and squeeze some frosting under the surface. Does not need to be a lot, just enough to give a creamy center.
Poke 3 gummy worms into each cake. Spoon chocolate graham cracker crumbs over each cake and around gummy worms, completely covering the surface.
Pipe the letters RIP onto each Milano cookie with decorators gel and push each cookie into the cakes through the graham cracker crumbs.
Lay one more gummy worm on top of graham cracker crumbs for decoration. Sprinkle chocolate sprinkles over the top.
Cathy runs her own vineyard and winery in the Willamette Valley of Oregon. She is a food writer forDavis Life Magazine and blogs daily about wine, food and everydayliving. She lives with her husbandand two sons. You can visit her at noblepig.com.