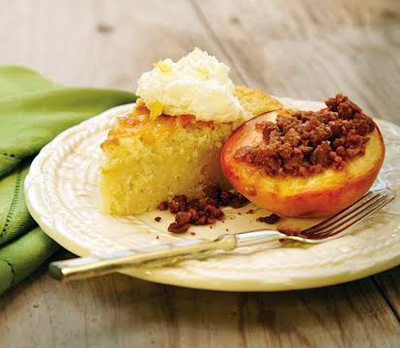 Recipe from Dinner on the Grounds: Southern Suppers and Soirees

Photography by Emily Followill
Amaretto Peach Bake:
4 peaches, halved and pitted (peeled, if desired)
1 1/2 cups amaretto liqueur
2 dozen small amaretto cookies, crushed
8 tablespoons (1 stick) butter
Whipped cream, optional
Mint or basil for garnish
Preheat oven to 350 degrees F.
Place peaches in baking dish, pit side up. Fill each pit with a heaping tablespoon of cookies and top with 1 tablespoon butter.
Pour amaretto around peaches, making a vat of liqueur.
Cover loosely with foil and bake for 25-30 minutes, or until peaches are completely soft.
Serve with whipped cream or ice cream.
Garnish with mint or basil. I love the essence the basil gives off with the warm peaches.
Farmer's Note: I like the keep the skin on because it helps the peaches hold together.
Honey-Lemon Olive Oil Cake
3 eggs
1 1/2 cups plain yogurt (not low-fat)
2/3 cup olive oil
1 cup honey
1 teaspoon good vanilla
2 heaping tablespoons grated lemon zest (from 2 large lemons)
2 tablespoons fresh lemon juice
2 1/2 cups flour
2 1/2 teaspoons baking powder
3/4 teaspoon baking soda
1/2 teaspoon salt
Preheat oven to 350 degrees F. Grease a 9-inch springform pan and line the bottom with parchment paper.
In a large bowl, whisk eggs lightly. Add yogurt, olive oil, honey, vanilla, lemon zest and juice, whisking till combined. Add remaining ingredients and whisk until just smooth and no lumps remain - but do not over whisk though.
Pour the batter into the cake pan and bake for 60-70 minutes, until a tester comes out clean (cover with foil if the top is getting too dark toward the end). Cool in pan on a wire rack for 10 minutes; remove from pan and let cool completely.
This cake will stay fresh for several days, well wrapped.
- Recipe courtesy of James T. Farmer III on his blog All Things Farmer.