We served that with chilled prosecco for the boozers and Perrier with lime for the teetotalers. There was also a bowl of cheddar cheese goldfish to reinforce the theme.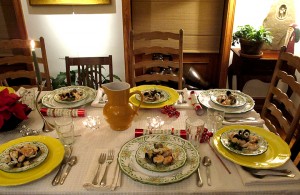 Then we sat down to the first course – a perfect plate of frutta di mare – marinated seafood — cooked to perfection by Don Michele. There was gamberi, calamari, scungili, polpa, vongole, cozze e capesante – that's shrimp, squid, conch, octopus, mussels and bay scallops – each species cooked separately so that they retained their individual taste and texture. As cooked by Don Michele, this is one of the world's great dishes.
Next was my spaghetti vongole. It went down well.
The main dish was roasted branzino with leeks and Meyer lemons, elegantly prepared by Shannon. He promised to give me the recipe.
Dessert was a scrumptious pecan tart in the shape of a fish to close out our theme dinner.
As always, once the food started coming, everyone started to dig in and completely forget to take any more photos. We apologize for this lack of visual support. The few we do have were taken by the eminent Carol Venezia.
SPAGHETTI VONGOLE
(For four as a main course)
2-3 slices of bacon (or pancetta or — preferably — guanciale) – diced
Olive oil – 3 tbsps
5 cloves garlic, chopped
Half an onion, sliced thinly (should be twice the volume of the garlic)
Dried hot pepper flakes – to taste
Butter – 3-5 tbsps
White wine – one and a half cups
Clams – I use New Zealand cockles when I'm in the States — figure 10 to 15 per person they should be small; they should be soaked for a while in cold water and scrubbed.
1 pound–spaghetti
Cherry tomatoes – 15-20 – trim the hard ends off and flash them in hot olive oil – set aside
In a pan that can eventually hold the whole dish, crisp the diced bacon in the oil; then add the onion until translucent; then add the garlic until just golden; add hot pepper; add the wine and butter and bubble it through until you have an emulsion – still liquid but thick – like pea soup.
Put a large pot of water to boil; salt generously and add the spaghetti. Add the clams to the hot emulsion (still on the fire). As each clam opens, use tongs to drain its liquid into the emulsion and put the open clam in a waiting bowl (they open at different times and you don't want to overcook them).
When the pasta is half-done (seven minutes), drain it and throw it in the hot emulsion with a ladleful of the pasta water and keep stirring or tossing it in the sauce until it's al dente – 2 to 3 minutes. Keep tasting. When it's perfect, divide it into four bowls, top each with clams and some cherry tomatoes. No parsley. Maybe more pepperoncini. The secret? The half-done pasta continues to absorb liquid – but instead of salted water, it now absorbs the bacon, onion, garlic, wine and clam juice into its very being — into each individual, delectable strand.
Michael Tucker is an actor and author whose third book is the recently published Family Meals: Coming Together to Care for an Aging Parent
. He writes about his love of food on his blog Notes from a Culinary Wasteland.