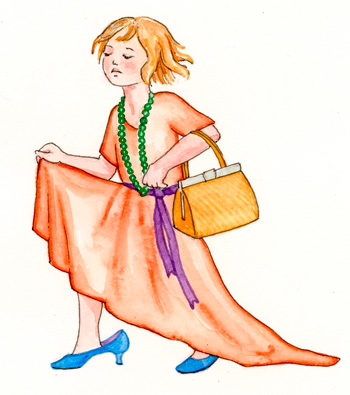 All dressed to the nines in my jaw dropping, turquoise evening gown with my hair in a bun, bright red lipstick mostly on my lips and flat shoes hidden under all that flowing satin. No high heels on when I crossed a major street- my mother's rule, too dangerous. Did she not notice everyone always stopped to let me cross? I would have been fine with high heels. Yes, of course my evening gown had a plunging neckline and it did need a few extra safety pins to look proportionally correct on my six-year-old frame.
I would cross the busy avenue solo, while all my second mothers watched from the many windows to make sure I arrived safely at my favorite place, Jay's Diner. I ate at the diner 2 or 3 times a week for my mid-afternoon snack. We ate late because my parents worked late, so mid-afternoon snacking was very encouraged at our house.
The heads of the five hard working ladies of the diner would spin as I walked in the door, every time, perhaps because I was always a bit overdressed for the venue. As I'd pull my floor length satin dress and me up onto the tall pedestal seat the grill cook always said, "the usual?" Yes, 2 hamburgers, loaded, medium rare, a large order of french fries and please, save me a dish of grapenut pudding. "Lots of the whipped cream, thank you." I was a regular diner patron.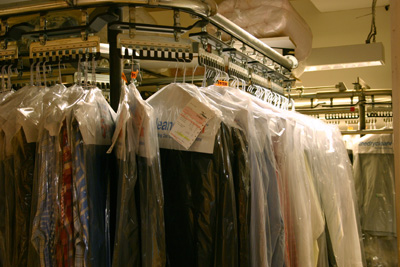 My childhood was pretty exciting compared to all my friends. My parents owned a large dry cleaning business in Augusta, Maine back in the early 60's and we lived upstairs on the top two floors. I grew up downstairs in the cleaning plant and it was a fun place to play with all the cubby holes. There were lots of people to talk to, a seamstress that taught me how to sew and racks of abandoned clothes to dress up in. My parent's business was all about old-fashioned quality - nothing left their front doors with a thread hanging or a button missing.
It took 15 fussy, mostly female, employees to accomplish this feat. And I was part of their quality control program. All these women took part in every aspect of my life when my real mother was too busy running the business. Maybe that is why I learned how to tie my shoes backward; what they taught me wasn't always perfect.
On their days off they would pack up my sister and me to go foraging for fiddleheads, wild mushrooms or dipping for smelts. We giggled together 'after' our work was done on the bank of the river happily eating Wonder bread sandwiches and bread and butter pickles with dirty fingers. In the fall, they'd ask us to help turn the meat grinder handle when it was time to make hogshead cheese at their homes; real rustic, Maine trailers. We always had a great day on our outings with our various second mothers.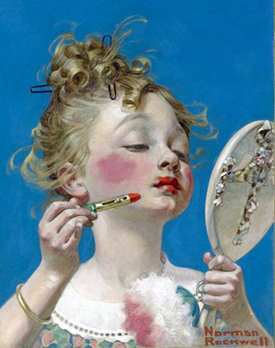 The cleaning plant had so many secret hiding places to play. I was either in the basement absorbing the heat of the massive oil fired furnace- my own sauna or in my rocking chair under the multi story conveyor rack, plastic wrapped clothes spinning overhead, constantly stopping, starting and interrupting my Nancy Drew mysteries.
When my stomach started to growl I'd pop out of my hiding place and head to the large rack of abandoned clothes. It was filled with forgotten orders left for more than 6 months. They were mine to play with. I could pick anything from a fancy satin evening gown to poodle skirts. All it took was a few large safety pins in front of a full-length mirror in the tailor's department to make my outfit, fit perfectly. My "new look of the day" just required me to go upstairs to my mother's make-up drawer when she wasn't looking. If I was careful and didn't press too hard when I applied my lipstick and rouge on my high cheek bones she'd never know. I had a bottomless wardrobe collection and a gorgeous gray fox stole that went with everything and I loved to dress-up when I went to visit the diner ladies.
I always asked the diner ladies what they were preparing for tomorrow's luncheon special as I waited for my food. I always hoped chicken croquettes were on the list. Oh, how I loved how they tasted. Boiled local chicken, cooled and chopped coarsely with an exotic rocking mezzaluna knife. They always asked me to join them at a booth with my dessert to watch the process up close as they sat down to rest their tired feet. They opened at 5AM, they had a long day.
Jay's Diner chicken croquettes were flavored with chopped onions, Bell's poultry seasoning, finely chopped hard cooked eggs, salt and pepper. A medium thick white sauce was the binding agent that made the mixture hold together enough to scoop in a conical shape.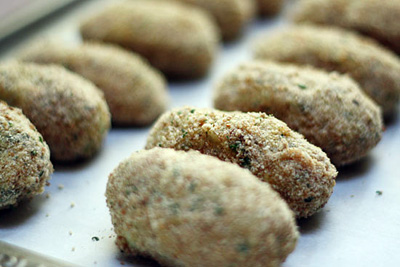 The croquettes were placed on a tray to firm up and chilled overnight in the walk-in cooler. The next day, the scoops of croquettes were deep-fried and drizzled with a white sauce made with the chicken stock the chickens were poached in. These jewels majestically crowned the divided plate with a rounded scoop of mashed potatoes and gravy and always a freshly cooked vegetable.
They sold out of croquettes so quickly and unless I had a sick day from school, which was rare, I only saw them being made in the afternoon. I rarely ate them unless they made them on a Saturday to surprise me.
I promised myself someday I'd have a collection of all different shaped scoops just like the nice, hard working women at the wonderful diner and make my own chicken croquettes.
Excerpts from, Life, one tablespoon at a time.
Brenda Athanus runs a small gourmet food shop in Belgrade Lakes, Maine with her sister Tanya called the Green Spot.
The Green Spot
This email address is being protected from spambots. You need JavaScript enabled to view it.
207.441.9327