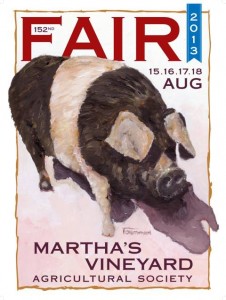 There's barely a minute to breathe and yet I am practically hyperventilating. I've never been good at containing my excitement, and this year, I seem to be more excited than ever about Fair Week.
You could get really cranky around here during the third week in August when traffic tangles up and thousands of people descend on the Island. And I must admit, after an onslaught of farm stand customers—and traffic jams in our own driveway—yesterday, I was just plain exhausted. But I woke up to the clear air and blue skies today feeling giddy.
This year the President's family vacation overlaps directly with Fair week, making things even more exciting (or more frustrating—depending on your point of view) than usual. We happen to be on the excited end of the spectrum on this one, too. Friday we were given the opportunity to contribute to a gift basket of local food heading directly to the chefs who will be cooking for the Obama family this week (at a house only a couple miles up the road from us). We sent cherry tomatoes and eggs, and a pint of Fairy Tale eggplants, too, which apparently the chefs especially liked. Roy is really hoping that the President is waking up to a breakfast of Green Island Farm eggs—but who knows?!
Across the street, the carnival rides on trailers are lining up at the Fair Grounds. Tents are popping up; the hall doors are open wide while workers set up the display tables inside. Hay for the animals is moving in to the barns, bleachers are lining up, and the fireman's burger booth is already in place. Best of all, two people on bicycles came down the driveway this morning to give us our four free tickets, which we receive for being abutting neighbors to the Fair Grounds. (The best part about this is that we get to smell the pigs smoking all day. Um, other pigs, not our pigs. Who are really big, by the way.)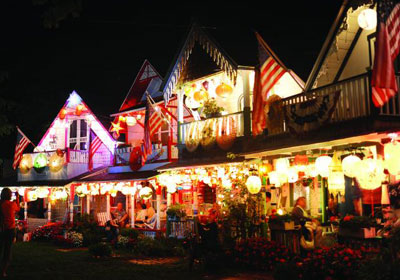 Wednesday, we'll all go down to Oak Bluffs, pick up Roy's parents at the Island Queen ferry, and spend the evening at Illumination Night at the Camp Grounds. After an old-fashioned sing along, at exactly 8 pm, thousands of paper lanterns will light up on the front porches and walkways of every gingerbread cottage in the Camp Ground. It is breathtaking and stimulating and enchanting all at once—even if you do, once again, have to negotiate the crowds. (If we can pull it off, we'll go back to Oak Bluffs for the big fireworks Friday night, though the Fair may keep us away.)
The Fair begins on Thursday, and our friends will come and park at our house and join Roy, Libby and I to walk over for dinner. By then, we will have already raced over once in the afternoon to see if the Hall has opened and the vegetables have been judged. I don't think this is going to be a big year for us, ribbon-wise, but you never know.
We'll still have to gather, wash and pack 500 eggs every day. And harvest tomatoes, eggplants, beans, zucchinis, peppers, cucumbers, kale, chard, flowers, and basil every day for the farm stand (and set up the farm stand every morning.) But we'll squeeze in all the time we can over at the Fair. Roy and Libby love the rides, and we all love the animals, especially the oxen, and the um, piglets. (The theme of this year's Fair is going hog wild!) So by Sunday we will be exhausted. But I don't care. Did I mention I love Fair week, that we wait all year for this excitement, that this is one of the reasons I love my life and my farm and my family and my Island? Yep. 
Susie Middleton is the author of The Fresh & Green Table
(Chronicle Books, June 2012) and Fast, Fresh & Green
(Chronicle Books, April 2010). She is the former Editor and current Editor at Large for Fine Cooking magazine. She lives, writes, cooks, and grows vegetables on Martha's Vineyard. Her blog is at <sixburnersue.com