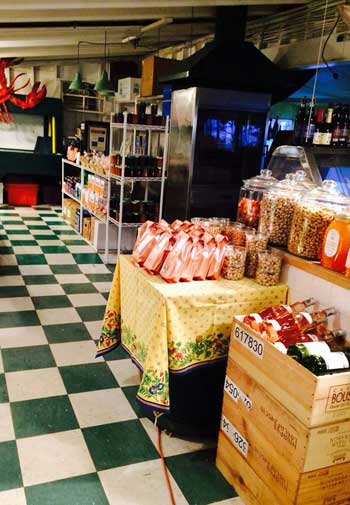 It was a cool, rainy fall day at our store in Maine many years ago. My sister was running errands and I was alone at our store. A well-waxed black truck pulled into the driveway and parked way too close to our building. I admit I was a bit nervous as I watched for the person or persons to get out from behind the blacked-out windows. The door opened slowly and a huge single foot appeared from under the door and slowly another emerged. The single occupant was the tallest and biggest person I had every seen in my life and he was headed for our front door. Tom was 6 feet, 8 inches and weighed around 600 pounds, seriously huge.
I no longer feared being robbed. Now I was worried that our floor couldn't hold that much weight. My brain went into overdrive trying quickly to calculate how much 3/4 inch plywood could hold for weight per square foot. Instant answer was - he was over gross. Three steps in and he was drooling over our lobster tank filled to the brim with a fine selection of jumbo lobsters. Then it happened, the crackling sound of a dozen laminate layers of plywood giving way as his foot slowly disappeared and all I could think was how I was going to explain this gapping hole in the middle of floor to my sister when she returned.
I helped him get his foot unstuck from the layers of plywood as he pointed at 3 jumbo lobsters that he wanted to buy. He never missed a beat. If it is possible for someone that large to spin in ecstasy, he spun around our store taking in everything and shaking with true glee. I cashed him out, carried his bags of lobsters out and apologized repeatedly for my floor. He slowly lifted himself back into the truck as the vehicle listed under his weight on the driver's side. He promised to return the following day. Yikes, I had a floor to repair and story to tell....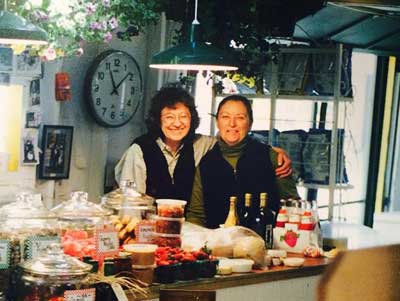 I told my sister you won't believe this customer and he's coming back tomorrow to 'really' shop. I still think she thought I made him up as she stared at the gaping hole in the floor with total disbelief, that is until his black truck pulled in again the following day and he slowly got out once again. Now my sister was staring at me like I wasn't crazy. There were no meteorites falling from the sky that made the hole just a giant man with a kind heart and incredible, monumental or should I say insatiable appetite. Tom became known as the Diamond Jim Brady of the Green Spot. He was a true gourmand with an endless appetite.
Everyday for 15 years he ate from our store - I know that he had a few 'improprieties' at drive thru restaurants because he couldn't always make it to our store as he was gripped with hunger. I knew because he ordered less and there was no eye contact.
On a hungry day he could wipe out ALL my prepared salads, 5 quarts of fruit salad, 3 quarts of potato salad, etc. Pasta salad was his favorite and he would take the whole platter home with him. He could eat like there was no tomorrow and maybe there wasn't going to be one much longer for Tom. His life was lonely, difficult and it was hard to ignore so I invited him for dinner at my mother's house.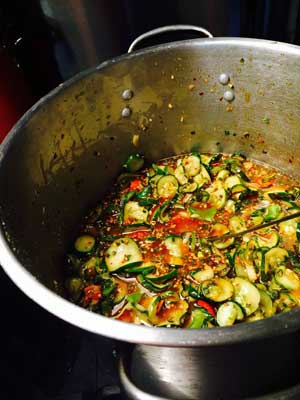 Our mother was widowed for a time and I thought he was interesting and so was my mother, why not?
I prepared a large and sumptuous dinner with candles, champagne and flowers and all I got in response was I know what you are doing and I am not interested, so, cut it out!
Tom became the family friend we always invited to every holiday. He had impeccable table manners and brought interesting topics of conversation to the table from his special 'heavy duty' non-matching dining room chair.
The last 2 or 3 years of his life, the gifts started…He dropped off an extravagant truck for us to use to take our garbage to the dump with a button you hit to lift the dump body. Really? "Oh, keep it for as long as you want." Then the fancy velvet jewelry boxes for me started and smaller gifts for my family every time he visited.
I started flight instruction and he said get the brochure of the plane you want and give it to me. A plane? He wanted to buy me a plane? It was time for the BIG conversation with the BIG guy. Within weeks he moved as far away as possible but still be in the state of Maine. And his visits became weekly not daily anymore.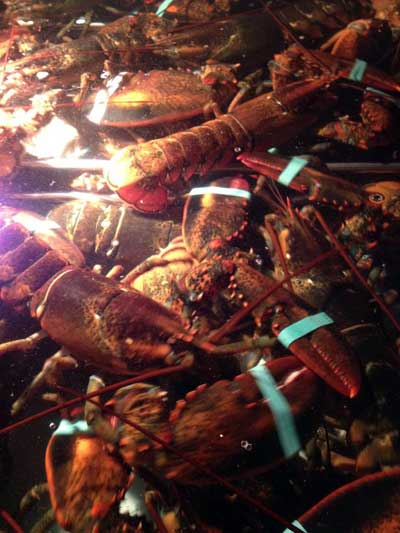 He was heartbroken but it amazingly didn't impact his appetite. He still ordered 12 - 2 pound lobsters, 5 pounds of haddock, 3 pounds of homemade butter, 5 pounds of various French cheeses, 3 bottles of vintage French Champagne, 3 dozen 'shucked' corn and 5 pounds of washed steamer clams - a standing order every Sunday morning. We packed it all up in a cooler for his weekly dinner he told us he shared with his college roommate and family. He loved arriving with the same cooler filled to the brim week after week, year after year.
A few weeks after Tom died his college roommate came to our store to see the store that Tom always talked about and meet my sister and me. We shared memories, thoughts and sadness and then I said we all shared good food with him, he was so generous and a kind soul. You must have eaten like kings each week. His face went from sadness to utter confusion. What do mean? The cooler filled to the brim with layers of iced food. Champagne on the bottom buried in ice all the way to the barely iced jumbo lobsters on the top. It was a packing masterpiece for his favorite family.
I don't know what you are talking about, he never came to my house, ever, with food. And the rest of the story of our Diamond Jim Brady was told long after he died...
Brenda Athanus runs a small gourmet food shop in Belgrade Lakes, Maine with her sister Tanya called the Green Spot.
The Green Spot
This email address is being protected from spambots. You need JavaScript enabled to view it.
207.441.9327