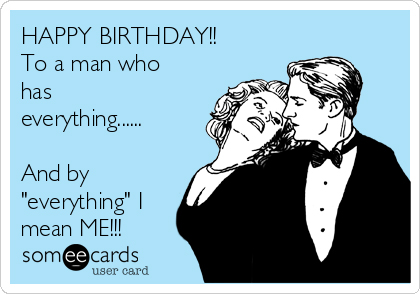 What do you get for the man who has everything, wants nothing, but gets anything he does want for himself? No, it's not a trick math question; it's my real life, eternal conundrum.
My husband has worked since his early 20s. He has taken care of his children, his parents, bought homes, cars, and all that he has ever needed. Now it's his Big Birthday. All that I have to give him is love.
But shouldn't we do something to mark the occasion? What? Where? A party?
I will give him a name for the sake of this story. Michael. Michael will tell you he has no friends, so no on a party, since there will be no one to invite. He exaggerates. He has some friends. Most of them live in New York. That is where he's from and where he would like to live. But we live in L.A. He goes to New York whenever he gets the chance. He is a much happier man there. I rarely see him as happy as he is during those few days before leaving to go home to Manhattan. He often tells me he only came to Los Angeles on a business trip. It turned into a very long business trip. One, in which he married, had two kids, divorced, and remarried – me. But, how can I make him happy by moving with him back to New York when all our kids live here in Los Angeles? This is our home.
Months before the Big Day, I began coming up with ideas. "I think I know where we should celebrate your birthday. This is perfect. You want to visit your aunt so – Miami?!?" I didn't get a big yes on that. I only got an "I'll think about it." Moving on, I came up with, "Let's go to Santa Barbara for a night -- but with all the kids and everyone can have a room in the groovy hotel?" I got another, "I'll think about it."
For weeks this charade went on. Finally, I got fed up at being blown off. I said I was done. Let's do nothing. I have no more ideas. You aren't committing to any that I've thrown out. I started to feel 'less than' as a wife. I already feel he didn't win the lottery on wives. I am only an adequate cook. I make the same boring thing over and over. I prefer restaurants.
He is a very independent man so he rarely needs me for anything.
And a surprise party was out of the question.
Here is why. For three years in a row, I threw him surprise dinners. He was surprised for maybe the first two, and by the last one he asked me politely, but it stung, "Please never throw me a surprise party again. It's enough."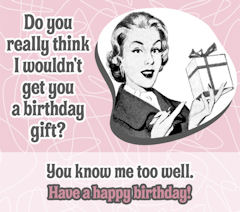 I was insulted and didn't celebrate him for many years afterwards, except of course, the last Big One ten years ago. I went all out on that. I asked his sisters to fly in to surprise him. Though I'm pretty certain his father let the surprise slip by mentioning that his daughters were coming to L.A. Michael later told me that my perfect makeup -- by that he means the false eyelashes I wear only to reunions or other special occasions -- gave me away.
This party was at Café Roma in Beverly Hills. I had a big room filled with, well, okay, mostly my friends, but both of our families. A few days before, I called his agent Elliot who every year on Michael's birthday sends a chocolate cake from Sweet Lady Jane to the house. I insisted that he change the cake to a three-layer berry and please have it delivered to the restaurant instead. I was forever after thought of as Mike's pushy wife. I asked his talented friend Billy Vera to put together a jazz trio and to perform that evening. It turned out to be such a perfect evening that I felt it could never be outdone.
So the pressure was on for this new Big One. He finally caved on spending a night with all of our kids spread out in different rooms at The Biltmore Hotel in Montecito. That's Santa Barbara for those of you who don't live on the West Coast. This spacious hotel is perfect in that it's everything we love about Southern California. It is graceful and Spanish and surrounded by lush gardens filled with varieties of succulents. Palm trees are everywhere.
The rooms are all great whether you have an ocean view or a garden terrace. I asked our five kids to each write something for the evening. We were in Tres Lune, our favorite Montecito restaurant. It was a bit noisy. But at the end of the meal, I felt it was the right time. I asked my stepson Max to begin. So, Max pulled out his phone (not a sheet of paper) and read his speech, which was a hilarious roast of his dad. To say he got laughs doesn't do it justice. People at other tables were turning their chairs to watch.
The whole restaurant became our audience. My daughter Augie had a tough act to follow, but got up and read her very touching letter. Then Michael's daughter Emma, another brilliant writer, read her speech and again, other diners in the restaurant were laughing along with us. Even I read a little thing to my husband from a few of my close friends, and I hate public speaking. My son Oliver's girlfriend, Summer had a little trick up her sleeve, as she called it – and laid out Michael's future for him with her very funny origami fortune telling.
And there was one surprise – Michael's good friend David made the long train trip from San Diego to share the evening with us and record it on video.
Well, it ain't over till the fat lady sings. (I hate that expression -- can we at least change it to plus-size lady?) Although, in our family it ain't over till the short lady bakes. Yes, every year on his birthday I make Michael's favorite cake: chocolate with a buttercream coconut frosting. Many days after we got back from our trip he was still on an emotional high from the event – and on a sugar high from the cake.
And tomorrow he will be 36,000-feet high on his way to New York.
Fredrica Duke shares how she discovered her love of food while growing up in Los Angeles on her blog Channeling the Food Critic in Me.