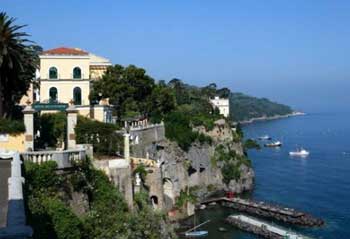 I was barely six years old and on an early summer vacation with my sister, Tanya and my Mother, a woman way a head of her time. The three of us were off on another adventure this time to the small town of Sorrento, Italy. Our father loved to travel but never outside the United States after he immigrated from Albania during the first World War to escape the atrocities in his village.
He indulged our mother's wanderlust and desire to show us the world with enthusiasm. That summer, our adventuresome mother picked the spectacular hotel Bellevue Syrene perched on a sheer cliff hundreds of feet above the ocean. The converted palace was surrounded by formal gardens in full bloom and the ocean side terrace dripped with blue Wisteria. It was dinner that evening that awoke my love of food and changed the course of my life.
The dining room was a formal affair like things used to be fifty years ago. As we three approached the entrance guarded by the Maitre D', he pulled back the heavy velvet drapes exposing the jewel box like dining room. As he led us to our table the azure blue color of the Gulf of Naples view from the floor to ceiling windows was so clear we could see Capri.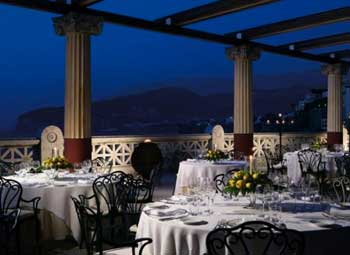 The floor was white Carrara marble tiles, old, elegant and perfectly worn. The long room was filled with Damask cloth covered tables with tall silver candelabras all aglow. It was the most beautiful place I had ever seen, as the sun's golden light was setting over the sea, in all of my six years.
The waiter came with oversized menus, hand printed letters still smelling of fresh ink not quite dried. There were no prices on my menu or my sister's or an English translation for that matter. As I looked around the room, the portly man dining alone at the next table caught my attention. He was being served a large grilled chop with a bone pointing straight up toward the vaulted ceiling. What kind of sticky looking rice was the waiter serving? My Mother explained what risotto was in fine details, how it was a certain variety of rice and how to stir stock in slowly. She promised us we would make risotto together when we were home again. I just knew that I was going to love risotto, there was no question in my mind.
Navigating through the menu was a bit too complicated for me to fathom and that big grilled chop had my full attention. That is what I had to order. I didn't know what animal it was from and I didn't care. Our waiter explained to me in his best English that guest was having a veal chop with a wild mushroom risotto. Acting in my most grown manner I replied that I would have the same thing as well and would he please choose a first course for me that he felt went best with my entree. My Mother just stared at me and smiled so softly. She must have been thinking that our Emily Post book on manners had made the impression that she had hoped for.
When the white cloth draped rolling serving cart with a huge leg of prosciutto and a bowl of melons stopped at our table, my heart stopped with it. This is what my waiter had picked for me? I started dinner with paper thin cut prosciutto and cantaloupe with coarse black pepper ground on top. Fruit and cured meat, a combination I had never had before. A cantaloupe as sweet as I have ever tasted to this day balanced and quieted by the cured meat and pulled harmoniously together with the floral tones of the fresh ground pepper. It was an eye opener, now I was balanced on the edge of my oversized chair.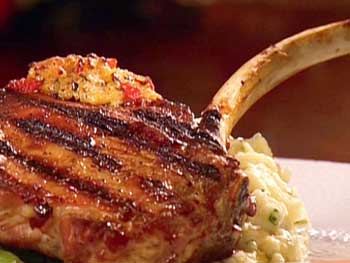 You can guess how excited with anticipation as I awaited "the" chop with the jutting bone. My mind was trying to figure out what risotto tasted like. In our home in Maine the starch of choice was generally potatoes in some form but I always perfered rice. I just knew my holiday would be filled with eating many different risotto preparations so we could make it for our waiting father at home. All of a sudden three waiters carrying separate silver domed platters began circling the room, headed to our table and stopped. Each cover was removed at exactly the same moment and our food was served by our separate waiters.
My gorgeous oversized veal chop leaned gracefully against a creamy wild porcini mushroom risotto with tiny, long, dark green beans dripping with fresh butter. What a beautiful plate and it was all mine! My server grated fresh Parmesan over my chop like fresh, dry snow falls from a winter sky at home. It smelled heavenly. I ate it all without even asking anyone how their dinner was, in fact I never looked up from my trance. And then it was all gone but the memory. Could anything ever be as good as this I feared. But the food Gods weren't done with me yet.
Our waiter was kind enough to bring a translated dessert menu and I studied it carefully. I picked the wild strawberries with lightly whipped cream served with a Meringue. It was the lightest dessert on the list and my belly was full but I wasn't missing anything. What I didn't anticipate was how three ingredients could triumph. The ornate silver tray and the heavy crystal tulip shaped glass that arrived holding my dessert was only the window dressing.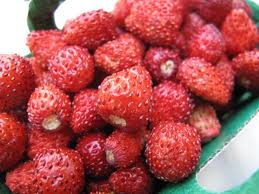 The Wild strawberries were the first picking of the season and the size of my pinky nail. Fragrant, concentrated sweet juice filled my mouth with each tiny spoonful and the best part was the serving was copious. The unpasteurized cream was whipped until it "just" held it's shape and was the palest color of yellow. I had never tasted cream like that or ever seen such a color. My tastebuds were dancing and I hadn't tasted the Meringue yet. The meringue was one large, freeform affair, bright white and it looked like a Cumulus cloud plucked from the Italian sky. I nibbled an edge only to be startled by tiny shards of sugar crystals that vanished magically into liquid on my tongue. I tried each component separately but now it was time to try it all together.
Simple ingredients, well, that isn't exactly the truth. It was the best of ingredients, simply presented together so skillfully that it was sobering and stunning. That was the dinner that changed my life. I knew by the last spoonful of cream that the food world was my destiny.
Brenda Athanus runs a small gourmet food shop in Belgrade Lakes, Maine with her sister Tanya called the Green Spot.
The Green Spot
This email address is being protected from spambots. You need JavaScript enabled to view it.
207.441.9327