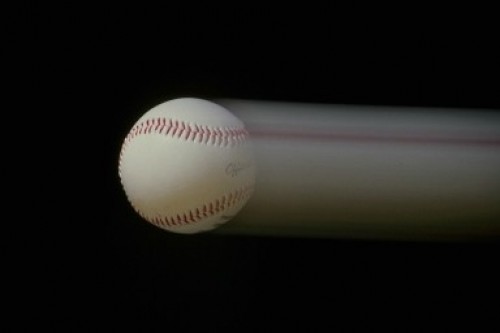 The guy to the right of me, wearing a stained #13 Alex Rodriguez jersey, grabbed his glove and screamed "Here it comes! Here it comes!"
The woman behind me was yelling "Oh my gawd! It's comin' this way!"
The man in front of me put down his beer and said "I got it, I got it."
All I could see was that spinning white orb against the summer night sky, getting closer and closer. It was like it was looking right at me. All I could think was "OHMYGOD".
I was 7 years old the first time I went to Yankee Stadium. It was the summer of 1977; the Summer of Sam; a blazingly hot summer of serial killers, blackouts, and punk rock. My folks were good friends with a few people that were rabid Yankees fans. How could you not be that year? Willie Randolf, Ron Guidry, Thurman Munson, Bucky Dent, and, of course, Mr. October, Reggie Jackson. My birthday is in October and so I always felt he and I had a special connection.
It was different then. It was mania. It was terrifying as we shuffled our way through the concourse- beers sloshing onto me, cigarette cherries burning my arms, sweaty crowds of smelly New Yorkers pushing to get to their seats in time.
Well, maybe it wasn't that different.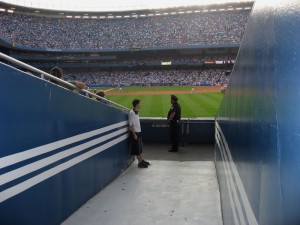 There was that moment though, when I peered down the tunnel that led people to their seats and I saw that green, green field lit by a million bulbs for the very first time. It's almost unfair that you get that peek, and you get it a few times before you find your tunnel. It's that tease that tells you you're about to step into another world. Sure, those drunken, sweaty fools will still be next to you, but you'll be focused on the pristine field with princes in bleached white with navy pinstripe uniforms.
In Yankee Stadium, I had my first and only sporting event connection with my dad (he would wait another 5 years for a son). We leapt to our feet when the Yanks made a great play and screamed our heads off when the other team did things that seemed unfair.
Sure, I followed my dad's lead because I didn't know much, but I studied and mirrored his every move. I felt like I had a new role, a new personality. I felt like a tomboy- which I was never athletic enough to truly pull off. My dad bought us hot dogs slathered in spicy hot mustard and snuck me my first sips of beer. Those moments, in that stadium, were some of the happiest moments of my life.
Shannon and I blew our vacation money earlier this spring, and I find myself pouting as I listen to strangers discuss travel plans on the train or in the gym. And then I remember, oh yeah, I'm spending my summer in the Bronx in the place where I'll always feel like a little girl.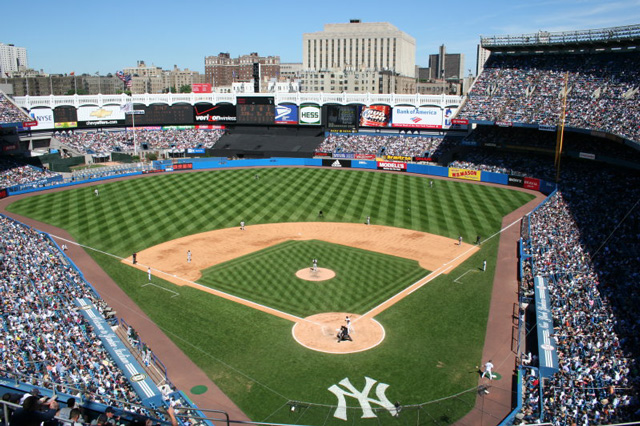 And that ball? It went right over my head. A guy sitting behind me yanked off his cap and caught it that way. I was so terrified that I would drop it in front of 40,000 people, or worse, be hit by it (which always seems to happen to me when balls are flying my way). It was all I could do not to hide under my chair when I saw it coming my way. Guess I'm still not a tomboy.
I am a chef though and this salad is my Yankees rebuttal. It's my cleanse. I'll eat like a fool when I'm at the game, but then make up for it by having this salad for the rest of the week.
It's so satisfying and so good for you, you can't even remember what you did to yourself the night before. It's based on a recipe I found in Cook's Illustrated years ago, with a few additional ingredients.
Vegan Cucumber and Tomato Salad with Mint and Lemon Dressing
4 – 5 large vine-ripened tomatoes (about 1 1/2 pounds)
1/2 teaspoon table salt
3 tablespoons extra-virgin olive oil
2 tablespoons lemon juice from 1 lemon
lemon zest from 1 lemon
1/2 teaspoon honey
1/4 cup finely chopped red onion
1/4 cup finely chopped fresh mint leaves
Ground black pepper
2 medium cucumbers, peeled, quartered, seeded, cut into 1/4-inch pieces, tossed with 2 teaspoons salt in strainer set over bowl, and drained about 1 hour (discard liquid)
1/2 cup dried cherries
1/2 cup pecans
INSTRUCTIONS
Core and halve tomatoes, then cut each half into 4 or 5 wedges. Toss wedges with salt in large bowl; let rest until small pool of liquid accumulates, 15 to 20 minutes.
Meanwhile, whisk oil, lemon juice, lemon zest, honey, red onion, mint, and pepper to taste in small bowl. Pour mixture over tomatoes and accumulated liquid and toss to coat. Rest to blend flavors, about 5 minutes.
Add drained cucumber pieces, the cherries and the pecans. Toss to combine. Adjust seasonings and serve immediately.
Alison Wonderland Tucker is a chef and caterer who lives and works in New York City. She writes about her love of food and life as a chef on her blog A Wonderland of Words.