"I know a man who gave up smoking, drinking, sex and rich food. He was healthy right up until the day he killed himself." ~Johnny Carson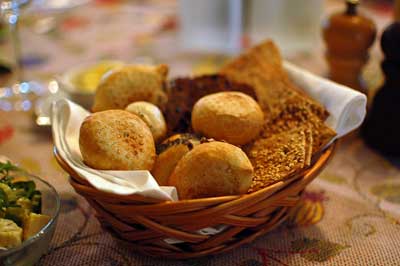 I finally tuned into "Mad Men." At least, the first show of this last season. I'm a little late to the craze. I had heard for years about the sets and the wardrobe, but what hit me most was the food. They nailed the food. And it's what I miss most about that era.
Truth is, I still eat like that -- but I'm alone. All the restaurants that serve "old school" food are dying. Everyone's dropping gluten, dairy and sugar. We are bombarded with studies about how bad they are for you. Gluten triggers stomach problems and brain disorders. Sugar generates cancer. All three cause inflammation that will kill me. Well, kill me now, because all I really want is bread, butter, sugar and a big cold glass of milk. And I don't want so many choices of milk that I have to read the carton. I want to live again in the late 60's and early 70's.
Around the same time I saw my first "Mad Men" show this season, I noticed the dismantling of Chart House on Pacific Coast Highway. Immediately, I was lost in memories of my first grown up dates there. My boyfriend would take me to Chart House and regret it around 30 minutes into the long wait for a table, as my mood dropped with my blood sugar. They were WAY ahead of their time on the no-reservations policy I still loathe. I get cranky when I can't sit right down and be served some bread & butter.
And, okay, what's with the 'no bread' policy that has taken today's restaurants by storm? I boycott a few that don't serve it. Don't get me started. But, back to the Chart House, 1973. I'd be famished by the time we were seated. I'd run to the salad bar, which at the time was a novelty. I would pile on the iceberg lettuce, adding so many croutons you barely saw the tip of the iceberg. Then pour on the Thousand Island dressing. I wasn't dainty.
At the table, I ordered the ubiquitous steak, not just any steak, but teriyaki-style with a baked potato, or the Surf 'n' turf and baked potato. On the potato, I would melt half a stick of butter, eat some, drop in the other half a stick, add lots of salt, sour cream, chives, and finish the whole thing off. We would also order an artichoke, dunk the leaves in drawn butter, then find the heart that I would devour and never share. (What was happening with my own heart during this, I won't guess.)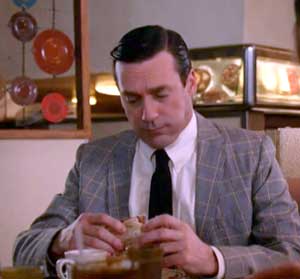 By this time, I hardly needed the steak and lobster, but took a few bites so it looked like I was getting our money's worth. I washed it all down with a bottle of Coca-Cola. Though I hated the hour-long wait, at the end I was a sated, happy girl. The good news today is that Mastro's Ocean Club, the chain's newest California outpost, is opening in June, replacing Chart House.
On the "Mad Men" episode, Don Draper and another guy were eating Brooklyn Avenues -- pastrami and coleslaw on rye, with Russian dressing -- in Canter's Deli. It's not something you see much of today. Cured meat, like pastrami and corned beef, scares people. But if you have a hankering for good deli, you can find it on both coasts.
Still open in LA: Canter's, Nate n' Al's, Factor's, Art's, and I'm hearing a lot about Brent's Deli, so I will be headed out to the valley to try it. What? Did you say Northridge? On second thought. . .
In New York, my favorites are Barney Greengrass and Zabar's (really a specialty store, but I'm counting it). On my list to try: Russ and Daughters on East Houston Street. Russ has been there since 1914, but I wanted to give him time to get the kinks out before I visit.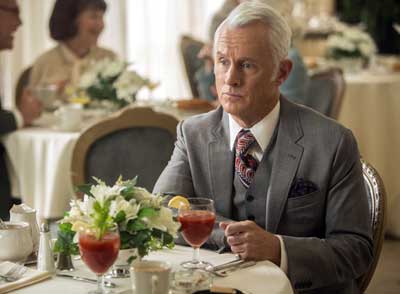 Roger Sterling and his daughter on "Mad Men" had Sunday brunch at the Plaza Hotel in New York, ordering Eggs Benedict. I remember special occasion meals like Eggs Benedict at Tavern on the Green in Central Park. Opened: 1934. Closed: 2009.
I am thrilled to hear they are reopening this month. I would go there, back in the day, for the delicious bread. All varieties in your breadbasket. I'd switch from sour dough to raisins & nuts bread, to dark pumpernickel. No doubt, the new menu will have dropped this bread, but I know a place on upper Madison Avenue that still serves it: EATS, owned by Eli Zabar. And the latest good news on eggs: for years, people feared them, ordering egg whites-only omelets, but now eggs are back in a big way. We're now told the yolk has healthy fats. So glad I held onto my eggs from the 70's! What's old is new. And I never change.
In an office scene on "Mad Men," an adman was in the kitchen waiting for his toast to pop up. So retro. I still miss Ship's, a coffee shop at the edge of Beverly Hills, on La Cienega and Olympic, that had a toaster at every table and several more scattered along the counter. Do-it-yourself toast. Opened 24 hours a day, with a sign that read, "Ships…Never Closed." Closed so long ago, in 1996.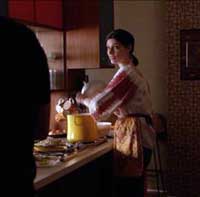 Another scene in the first episode of Season 7 had a young woman in her hippie, macramé-decorated canyon pad, cooking a meal. Coq Au Vin. The Julia Childs Coq Au Vin from her 60's television show. The one with bacon. I like anything with bacon. It was the fantasy meal I would cook, if I could cook, for a boyfriend. I always had the boyfriend, but the cooking was strictly fantasy. The character on the show served a dessert to go with this dish -- bread pudding with blueberries.
Then, just this week, I found out about another sad closing. Kate Mantilini's, a virtual show business commissary in Beverly Hills is shuttering on June 14th. The reason it hits us "Normans" (Beverly High) so hard is that we grew up in Harry and Marilyn Lewis's restaurants, starting with Hamburger Hamlet, which closed its doors a few years ago. People came to the Hamlet and paid their respects for months. It was like a long, drawn-out big Beverly Hills funeral. At Kate's, you would always run into long lost friends as you ate the Lewises' signature dishes, like guacamole made fresh at your table, and the white chili. Good news, if you don't mind driving: the Woodland Hills Kate Mantelini's will remain open.
Fredrica Duke shares how she discovered her love of food while growing up in Los Angeles on her blog Channeling the Food Critic in Me.