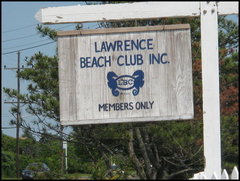 If a group of 10 people playing the word association game were given the word "summer", chances are at least half would say picnic. Probably more. For me, the best summer picnic, the only summer picnic, is a beach picnic. My family wasn't park picnickers or picnic in the woods people. We were Long Island beach lovers. And that's where we did our picnicking.
Every summer from the time I remember, until I was 18, my family belonged to the Lawrence Beach Club on the south shore of Long Island, New York. When school let out in June until after Labor Day, my sisters and I were there, rain or shine. If it rained while we were in the pool, we just opened our mouths to catch the drops.
On hot days after school started back up in September, my mom would pick us up at 3, the station wagon idling at the curb, and take us to the beach until 5 well into October when it was starting to cool down and get dark early.
Memories of Lawrence Beach Club own prime real estate in my memory bank. Beach picnics on summer weekday nights with my family are among the most precious. So precious they are usually keep vaulted in the back of the bank and brought out to be viewed on rare occasions.
We'd go on a Wednesday or Thursday night. We'd pick my father up at the train station at 6:10. He'd get off the train, the 5:25 from Penn Station, carrying his suit jacket over his arm, his tie loosened at the neck, summer straw hat in hand. My mother slid over to the passenger side as my father got in and took her place behind the wheel while managing to peck her cheek in the process.
"OK you three, nobody's beating me into the ocean tonight" my father would say to us, pulling out of the station, heading the car towards Atlantic Beach and the row of beach clubs along the Atlantic shore. "It was an oven in the city today" he would continue, over shouts of "I will, I will, oh yes I will!" from the back seat.
My mother had packed her wicker picnic basket full of cold chicken, potato salad, cole slaw and sliced tomatoes she'd grown on vines in her garden out back by our garage. She'd pack the large sized bag of Wise potato chips, even though we had potato salad. Irish, you know. Can't pack too many potatoes. A six-pack of cokes in the small glass bottles and two thermoses, large sized thermoses, full of gin martinis were carefully packed in the red plaid cooler. The cokes were for me and my two sisters. My parents each had their own thermos.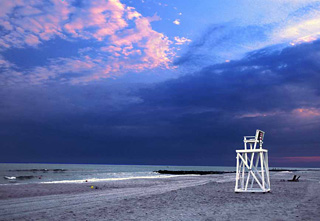 The "beach boys shack" was left open but without beach boys after 6PM. While my mother rolled out her red blanket, the three of us helped my dad carry the canvas chairs and windbreakers down near the ocean where she'd made camp. After a dip in the ocean and a hearty romp around in it with us, my father would settle into the low-slung green chair next to my mother and the thermoses of martinis.
My sisters and I ran wild for the rest of the night, running in and out of camp, grabbing cokes and chicken parts, stopping long enough to slurp down some coleslaw, grab a handful of potato chips, by then sandy, as well as salty, and run off again to climb up on the life guard stand and pretend we were on the job, scanning for sharks or drowning swimmers!
We'd pack up and leave when it was so dark we could no longer see the shoreline and make out the water and both thermoses had been fully drained. We were so tired, my sisters and I would fall asleep all over each other in the back seat. God must have driven us home. But damn if we didn't have a hell of a great beach picnic!
Last week I drove up the California Central Coast with my dogs, Petey and Turtle, to stay at my friend Philip's get away "shack" to read and write for a couple of days. His place, funky, and out of the way, with strawberry fields and horses for neighbors, is a 20-minute drive to Avila Beach.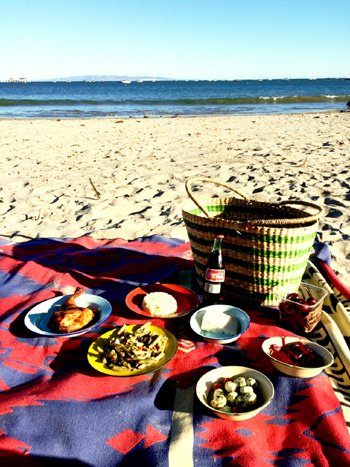 "Hey, you feel like taking a picnic to the beach" asked friend, Phil, around 3 in the afternoon the day I arrived, which was hot and sunny and looked like it could be a perfect night for a beach picnic.
"You bet", I answered, adding, "I'll make chicken and my mother's potato salad." Not knowing what cabinet or vault "my mother's potato salad," rolled out of, I got cooking!
By 6 o'clock we were walking in the sand, dogs romping in the ocean up ahead of us, arms juggling straw baskets, blankets slung over shoulders. Baked chicken, potato salad, and sliced tomatoes, not from my mother's garden, but somebody local's garden and they were delicious. We had potato chips, too, and olives from Bell Street Farm in Los Alamos. What we didn't have were thermoses of gin martinis, although I did have a coke in a bottle and Philip had a beer.
The dogs helped themselves to potato chips. We all got sand in our teeth. Petey and Turtle, black noses white with sand, ran around nonstop having a good old time. They conked out in the car and slept the whole way home, just like me and my sisters, stretched out on the back seat of our station wagon, snoring soundly and happily, paws flopped over paws.
Philip drove home.
Yet again, everyone had one hell of a beach picnic.
My Mother's Potato Salad
6 medium potatoes
1/2 cup very finely chopped celery or finely chopped green pepper
1/2 to 1 cup mayo (to taste)
1teaspoon salt
1/4 teaspoon pepper
2 tablespoons Dijon mustard
Put potatoes in a big pot of water, bring to a boil and reduce heat. Let simmer until tender (about 10 minutes). Drain and let cool. Cut potatoes in small cubes and combine with other ingredients.
Enjoy!
LA based Writer, Annie Stein, has written for C and More Magazines, NYTimes and is a regular blogger on Huffington Post. She runs creative writing workshops for at risk teens.