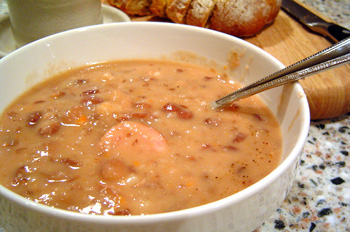 It wasn't often that my dad was in charge of making supper, but every once in a while my mom would hand preparation of the last meal of the day off to him. His motto in the kitchen was, "the simpler, the better." He'd open a can of Campbell's bean with bacon soup, mix it in a pot with some water, then slice up a couple of hot dogs and toss them in. He had supper on the table in no time at all. And, I think we liked it. Ugh.
My standards for bean soup have a come a long way since then. No more Campbell's for me. On a chilly Saturday afternoon, I love having a pot of homemade bean soup simmering on the stove.
I like to use dried beans when I can. They are very inexpensive and I find their taste and texture to be so much better than canned beans. I like to use a quick soak method, boiling the rinsed beans for 2 minutes, then removing the beans from the heat, allowing them to soak for an hour in the hot water.
A little sauteed onions and carrots add great flavor to the soup. Pieces of tender, smoky meat come from the pork hocks. I don't add hot dogs, but I do slice up some Kielbasa to stir into the soup.
So, why make this soup? Beans are low in fat, high in protein, fiber and complex carbohydrates. They contain no cholesterol. They are a good source of folate and iron, plus they offer some B vitamins, calcium and zinc. Most importantly, it tastes great. A bowl of this warm and satisfying soup makes a meal. I wish my dad would have had this recipe.
Country-Style Three-Bean Soup
1/2 pound northern beans
1/2 pound red kidney beans
1/2 pound pinto beans
water
2 tablespoons butter
1 onion, chopped
1 cup chopped carrots
1 1/2 pounds smoked pork hocks
2 bay leaves
6 peppercorns
3/4 pound Polska Kielbasa, sliced 1/2-inch thick
Rinse and sort beans, removing any small stones, shriveled beans and dirt. In a large soup pot, heat beans and 8 cups of water to boiling. Boil 2 minutes. Remove pot from heat. Cover and let stand for 1 hour. Drain beans in colander and rinse with cold water.
Return soup pot to heat. Melt butter over medium heat. Add onions and carrots and saute for about 5 minutes, until onions are tender. Add pork hocks and 8 cups of water to the pot. Add bay leaves and peppercorns. I like to put the bay leaves and peppercorns in a tea ball before adding to the pot. This makes removal very easy. Heat to boiling. Return rinsed and drained beans to soup pot.
Simmer soup for 45 minutes. Remove about 2 cups of soup and place in a shallow bowl. Mash the soup with a potato masher. You could also put the 2 cups of soup in the blender and puree. Return mashed soup to pot. This gives the soup a thicker texture.
Add sliced sausage. Cook 20 minutes more.
At this point, soup can be covered and refrigerated overnight.
At serving time, heat soup until piping hot. Remove bay leaves, peppercorns and pork hocks. Cool the hocks slightly. Trim some of the meat from the hocks and add to soup. Season with salt and pepper.
Makes 8 to 10 servings.
Sue Doeden is a popular cooking instructor, food writer and integrative nutrition health coach. She is the host of Good Food, Good Life 365 on Lakeland Public Television. Her own hives full of hardworking bees and her love of honey led to the creation of her recently published cookbook, Homemade with Honey.