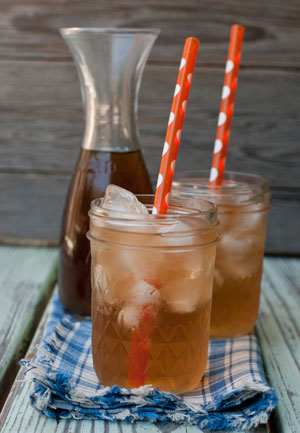 I grew up drinking Dr. Brown's Cream Soda. I loved it. I would go to Art's Deli with my dad and nothing made me happier than a big bowl of matzo ball soup, a potato knish, and a bottle of cream soda. Oh, how wonderful it would be to be 14 again and eat all the carbs one desires. Sigh….
Just recently, my two older boys were dining with friends at our favorite, local deli; Factors, and it was here that they discovered Dr. Brown's. A bit of nostalgia crept in along with a smile. Going to Art's with my dad was always a treat, whether I got my "usual" or shared a corn beef sandwich with him, Dr. Brown's always accompanied my meal. So, I find it only natural that my kids taste a bit of my childhood while they enjoy their favorite meal at our neighborhood deli.
One problem. We have a no soda rule in our house. They have become really respectful of the rule, however there are those times that they are with friends and the mom orders the drinks without hesitation. The open bottle of either black cherry or cream soda is too tempting. They are 11 and 14 after all, and I do let some things slide.
Instead of always saying no, whether in the super market or at a restaurant, I chose to try my hand at making one of their favorite at home. Granted, this is not going to become a household staple, but a rare treat always brings smiles to their faces and there is nothing wrong with seeing their eyes light up at that first sip or taste.
The first batch was made with a few fresh vanilla beans. Didn't really taste like much. Then I remembered an almost full jar of vanilla bean paste in my baking pantry. Lately, I have been using it to make homemade chocolate syrup or cupcakes, but not enough to make a dent in the jar.
This ingredient was the ticket to a winning beverage. Coupled with pure, organic cane sugar, a very, very small pinch of Celtic sea salt (cuts down on the sweetness), the end result was better than the original. After one glass, my kids begged for more. Keeping a small bottle of vanilla bean simple syrup in the fridge, along side a bottle of your favorite bubbly water, an afternoon sweet treat was born.
Homemade Vanilla Bean Cream Soda
yield: 2 1/2 cups
ingredients:
1 1/2 cups organic cane sugar
2 cups water
a pinch of Celtic sea salt
4 tablespoons vanilla bean paste
1 vanilla bean pod, split down the middle, seeds removed(save the seeds for something wonderful)
bubbly water
instructions:
• combine sugar, water, Celtic sea salt, and vanilla bean pod.
• over medium heat, bring to a simmer until sugar is dissolved. simmer for 5 minutes.
• whisk in vanilla bean paste. let steep and cool to room temperature.
• remove vanilla bean pod*.
• store in a glass jar in the fridge, indefinitely (if it lasts more than 2 days).
to assemble:
• place 1 – 2 tablespoons of vanilla bean syrup (depending on how sweet you like it) in a glass. add 12 ounces of bubbly water to the glass. stir. add ice. drink slowly; make it last!
* I keep a jar of vanilla sugar in my baking pantry. let vanilla bean pod dry out. once dry throw in your jar of vanilla sugar. I use pure, organic cane sugar and when I have left over pods, I toss them into the covered jar. Using vanilla sugar on top of crisps or sprinkled on pie crusts is a win win all the way around!
Susan Salzman writes The Urban Baker blog to explore her dedication to good food in the hope of adding beauty to the lives of her family and friends.