My parents were always worried that I hadn't eaten. "Have you had lunch, Fredde?" My answer was "YES, of course, I made myself a mayonnaise sandwich!!!" And James Beard is famous for his as well, okay, maybe his is called an onion sandwich, but it's pretty much the sandwich I made as a kid.
James Beard Onion Sandwich AKA Fredde Duke's Mayonnaise Sandwich
Ingredients:
8 slices firm-textured white bread, cut into quarters
8 tablespoons unsalted butter, room temperature
1 large sweet onion, peeled and sliced into paper-thin slices*
Fleur de sel, coarse salt, or sea salt
2 tablespoons Mayonnaise (preferably homemade)
4 tablespoons of finely minced parsley
* Choose from Vidalia, Walla Walla, Maui, Imperial, Carzalia, or Texas Spring sweet onions.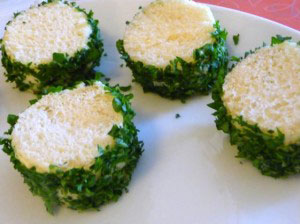 Preparation:
Arrange the quartered bread slices next to one another on a flat work surface. Using a glass or an 1-inch round cookie cutter, cut out two (2) small rounds from each sandwich; discard trimmings.
Spread each bread circle with 1 tablespoon butter. Place a thin layer of sliced onions over the butter. Lightly season the onions with salt. This is a great place to use your Fleur de sel.
Assemble the sandwiches with remaining bread slices, pressing lightly to make them adhere.
Spread some of the mayonnaise around the outside rim of each sandwich round. Roll the rim of each sandwich in the minced parsley to coat completely.
Serve immediately or cover and refrigerator for a few hours.
Makes 16 sandwich rounds.
Fredrica Duke shares how she discovered her love of food while growing up in Los Angeles on her blog Channeling the Food Critic in Me.