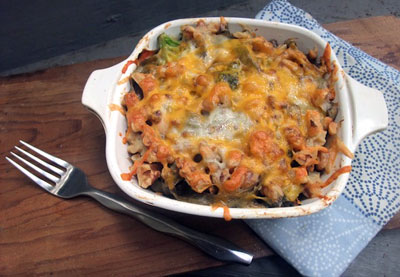 When I was growing up, my parents took me and my sister to all kinds of restaurants but rarely ones with "kid's menus." We regularly came into San Francisco to eat Chinese food, tried sushi long before it became popular, and celebrated birthdays and school graduation at fancy French restaurants. Unlike many kids who probably longed for Taco Bell or McDonald's, I enjoyed eating at The Good Earth, a casual restaurant near my house. The menu had a mix of salads and sandwiches and some very unique entrees. It wouldn't necessarily be considered "health food" by today's standards but there were quite a number of vegetarian dishes.
At The Good Earth, pretty much anyone could find something they would like to eat, and that made it perfect for dining out with everyone from my teenage girlfriends, to my grandmother. The Good Earth was famous for it's spicy cinnamon tea which you can buy to this day. Although the restaurant chain was sold and very few restaurants remain, I remain haunted by the memory of Walnut Mushroom Casserole. It was my go to dish.
I like to think of myself as fairly adventurous, but really, when I find one dish I love, I have a hard time straying beyond it on any menu. The Walnut Mushroom Casserole at The Good Earth restaurant was my absolute favorite. It's still on the menu at just one remaining restaurant in Southern California. Here is the dish description:
Walnut Mushroom Casserole spinach fettuccini tossed with broccoli, mushrooms, onion and water chestnuts, blended with sour cream and sherry sauce. topped with two cheeses, walnuts and scallions
I found a recipe online but it didn't seem right to me, so I adapted it as best I could to fit with my memory of it. I used Al Dente spinach fettuccini and it was perfect. I also tested out Al Dente's bonachia spinach fettuccine, and that worked great too. Note: Do not overcook the pasta!
Walnut Mushroom Casserole
Serves 6
Ingredients:
2 Tablespoons olive oil, divided
1 cup walnuts, coarsely chopped
1 medium onion, cut into quarters and thinly sliced
1/2 lb small button mushroom, halved or quartered into small chunks
3 cups thinly sliced broccoli, stems and bite-sized florets
8 ounce can sliced water chestnuts
1 clove garlic, minced
2 Tablespoons sherry
2 Tablespoons soy sauce
1/2 cup + 2 Tablespoons sour cream
6 ounces dry spinach fettuccini (such as Al Dente brand), cooked until barely tender
1 cup shredded monterey jack cheese
1 cup shredded cheddar cheese
Instructions:
Preheat oven to 375 degrees F.
Heat a large skillet over low heat, add walnuts and stir until lightly toasted and fragrant, then remove and reserve the nuts and return the skillet to the stove.
Add one tablespoon oil to the hot skillet and the onions and mushrooms and cook until just beginning to brown, remove with a spoon and reserve. Add the remaining tablespoon of oil to the pan and the broccoli and sauté until crisp-tender, about 8 minutes. Stir in the reserved onions, mushrooms, water chestnuts, garlic and spinach fettuccini. Remove from heat and add the sherry, soy sauce and sour cream. Stir gently to coat without breaking the noodles.
Place mixture in a greased, shallow 2 1/2 quart baking dish. Sprinkle evenly with the reserved walnuts and then the cheeses. At this point the casserole can be refrigerated for up to 2 days. Bake until cheese melts and casserole is heated through, about 15 - 20 minutes.
Note: you can bake the mixture in any type or combination of casserole pans you wish. If you use large individual ramekins, bake only until the casserole is hot and the cheese melts, about 10 minutes.
Amy Sherman is a San Francisco–based writer, recipe developer, restaurant reviewer and all around culinary enthusiast. She blogs for Epicurious , Bay Area Bites and Cooking with Amy .