Breading usually means dredging the oysters in a egg-milk wash before rolling them in breadcrumbs. I prefer a simply seasoned olive oil mixture. The resulting oysters are lighter and crisper. As a condiment I recommend making homemade tartar sauce.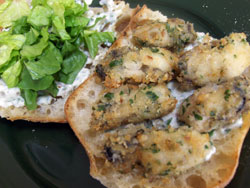 1 dozen oysters, shucked, nectar reserved for later use
1 cup bread crumbs
1 tablespoon Italian parsley, leaves only, finely
4 tablespoons olive oil
1 teaspoon sweet butter
Sea salt and pepper
2 tablespoons tartar sauce
2 small baguettes, cut in half
1 small avocado, peeled, pitted, sliced (optional)
Romaine lettuce or arugula leaves (optional)

Drizzle the baguettes with a little olive oil, then toast or grill.
Pour the olive oil into a shallow bowl and season with sea salt and freshly ground black pepper. In a second bowl, mix together the bread crumbs and parsley.
Roll each oyster first in the seasoned olive oil, then in the breadcrumb-parsley mix. Heat olive oil and butter in a sauté pan. Lightly brown each oyster. Turn carefully so they brown on all sides, then drain on a paper towel.

Spread the tartar sauce on the baguettes. Arrange 6 of the oysters on each baguette. Adding sliced avocado and lettuce is optional but recommended.

Serves 2. Preparation Time: 15 minutes. Cooking Time: 5 minutes.
-Recipe courtesy of David Latt