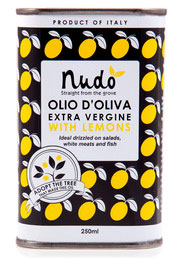 I didn't really think much about food and what went into making a nice meal until I was somewhat forced to learn how to cook when I was laid off (again) about ten years ago. I needed something to do with my free time and felt like I should contribute something to the household, since I was no longer bringing in any dough, so to speak. While I had certainly thrown things together over the years, this was a new quest to eat better and see if time and effort really made a difference. I know that seems ridiculous, but I honestly had no frame of reference. My mother always did all the cooking when I was growing up, preparing hearty meals from scratch for her family of six. Of course, this was in the days where the whole family sat down to dinner every night and you had to finish everything on your plate before you were excused and then were promptly put to work cleaning up the kitchen. It was her domain and we ate what was prepared. Now I got to choose what graced our table.
With a subscription to Cooking Light and The Betty Crocker Cookbook in hand I began to create and in time to actually innovate and uncover the joys of foods I never thought would ever enter my mouth. One of my biggest revelations in the intervening years has been the deliciousness of the olive. I am addicted to everything about this "fruit" and now instead of picking them out of things I put more on. I think I could actually subsist on crusty bread dipped in e.v.o.o. (at least for a weekend). If the oil is infused with something, even better. One of my favorite cooking "tricks" is to add a bit of infused olive oil, usually garlic or basil, to the dish to brighten it up and deepen the flavors. I'd always pick up a tin here and there to keep on hand, never very concerned with the producer. That's all changed now that I've found Nudo Olive Oils.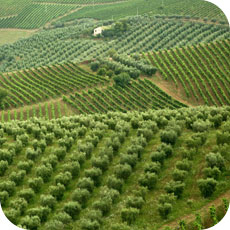 This small, family-owned company began as a labor of love by Cathy Rogers and Jason Gibb, two British reality show producers who decided to chuck the LA scene and a familiar life in London for a more hands-on, rustic adventure in the Marche region of Italy. They still needed to make a living and after much research and a bit of luck, they came upon an old grove of olive trees that called their name. They tell the whole truth from the learning to prune to finally getting their oil in the proper tin in their book The Dolce Vita Diaries
, a funny and, at times for them, exasperating tale that's as compelling as it is cautionary. (Chucking it all for the "simple" life is not always so simple.) The project was developed around an idea to give the public a chance to "Adopt a Tree", which helps keep local farmers in business and guarantees quality. It also gets the adopter, organic, first-rate, cold-pressed, extra virgin olive oil from their own tree (and a few others nearby) delivered to their home twice a year. You can, and people have, even visit your tree, if you ever happen to be in the neighborhood. I wish. At the very least, you have a tiny piece of Italy in your cupboard.
While their "plain" extra virgin oil is very good, it took only one taste for me to become utterly enamored with the stone-pressed lemon version. Made with fresh Sicilian lemons that are ground with the olives, this isn't just a simple infused oil. This is a marriage made in heaven: clean, bright, lemony, olivey goodness, that is neither sweet nor bitter that seems to linger endlessly and elegantly. That little 8oz. tin never stood a chance. I poured it on and in everything for a month. Now I can't believe it's gone. I added it to my Shrimp, Asparagus and Goat Cheese Risotto, sauteed spinach with garlic, feta and pine nuts and Lemon-Garlic Chicken with Green Olives. I even created two recipes for a Roussanne wine pairing just so I could use it. I doused a round of Mitica goat cheese in it then covered that with lemon zest and Herbs de Provence. I also drizzled it over dried apricots topped with arugula and shaved gruyere. I just couldn't stop. I will be getting more, along with the Basil and Garlic versions. Thankfully, I can get it locally at Cube LA, a gourmet Italian market and cafe. For those of you not lucky enough to live in Los Angeles, Nudo has a website. Go there. Order. You won't be sorry.
Following are a few recipes from Jason Gibb, co-owner of Nudo, I will be trying with my next tin:
Mozzarella with Fig Jam and Lemon Oil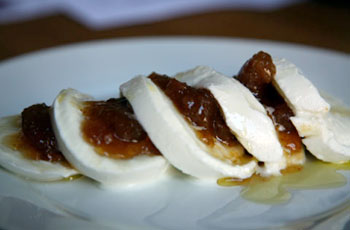 One of the many bonuses of my job is that people give me lots of yummy pots of Italian food, hoping that one day it may become a Nudo product. One of our most passionate producers is Silvano. I go and visit him often to test-run his latest concoction. On my most recent visit he gave me fresh pot of white fig jam. He made me promise I'd have it at home with some buffalo mozzarella and a drizzle of lemon olive oil. I did.
Mozzarella di Bufala – 200g
White fig jam
Nudo olive oil crushed with lemons – a drizzle
Salt – a pinch
Slice the mozzarella and alternate the slices with a spoonful of the jam. Sprinkle some salt over the top and drizzle the lemon olive oil before serving.
Baked Trout with Lemon-Oil and Flat-Leaf Parsley
Ingredients for 4
Trout – four whole fish (250-300g/8-10 oz each)
Lemon olive oil – 2 tablespoons
Flat-leaf parsley – a bunch
Garlic – two cloves, chopped Salt and pepper to taste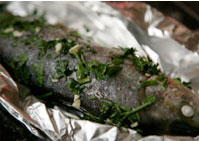 Preheat the oven to 190°C/Gas mark 5/375°F. Wash and gut the fish. Chop up the parsley. Place each fish on a piece of aluminium foil. Stuff some parsley in each one with some chopped garlic and lemon oil. Then sprinkle an equal amount of the parsley / garlic / lemon oil combo over the top. Add a goodly dose of salt and pepper.
Wrap up each one carefully in the foil, making sure that there is air inside and the foil isn't touching the fish at the top. Place on a baking tray and pop in the oven for 25 to 30 minutes. Goes nicely with a fava bean salad, or new potatoes. Or both.
Guida's Ciambellone
The Nudo farm's nearest neighbours are the inimitable Guida and Daniele. They run Il Maniero, a fantastical new-age manor house packed to the oaken rafters with modern art, sculpture and intriguing paraphernalia. The venue plays host to weddings, funerals, christenings and any other excuse for an Italian knees-up (it doesn't take much). They've recently taken also to selling their guests a tin or two of delicious Nudo olive oil. Last time we went round there for a cup of tea (a habit Guida has taken to with gusto since we moved in next door), there were a couple of tins of our lemon oil knocking around, so Guida whipped up a quick lemon olive oil cake for the kids. It has no fat in it apart from the oil so is a great cake for anyone preparing for the bikini / speedo days of summer.
Ingredients:
2 Eggs
100g/3.5oz Sugar
1½ cups flour
1 packet Dried yeast/baking powder
1/2 cup Lemon olive oil
1½ cups milk
1 tablespoong Cocoa powder
Preheat the oven to 160°C/320°F. Whisk the eggs for a minute (in a mixer), then add the sugar and whisk for 5 minutes more. Now gently, but thoroughly, mix in the flour and baking powder. Now mix in the oil and then the milk till you have a uniform batter. Pour 2 thirds of this into a greased baking tin. With the final third, mix on the cocoa powder before pouring it into the white batter. Don't mix it again,. but bake it for 30 minutes, keeping your nose alert for 'done' smells. Test it with a sharp knife or skewer – which shouldn't come out with any gunk on it. Take out and turn onto a rack to cool.
-All recipes & photos reprinted with permission from Jason Gibb, NUDO (www.nudo-italia.com)
Lisa Dinsmore is a writer, web programmer, movie and wine lover. She currently runs two review websites to share her passions: www.crazy4cinema.com and www.dailywinedispatch.com. She is also the Managing Editor of One for the Table.