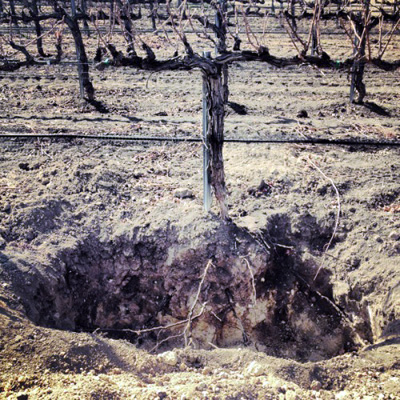 My father's singular obsession with noble limestone permeates every discussion of our wines. He purchased our vineyard land only once he discovered it lies on a 300 foot deep slab of the white, porous rock. Because we are so proud of Limestone's mineral, high acid effect on the wines, we seldom discuss the thin layer of dirt above.
The Stolpman estate vineyard's clay topsoil is light gray when dry and becomes a sticky mud when wet. Many 2×4 cars have fallen victim to the wet clay, even on our hard-packed roads. Boots become several pounds heavier with mud stuck like bricks in the treads.
That's the very beauty of clay in our perpetual California drought: it retains moisture. This year, as we look at the driest winter thus far in our vineyard's history; we are thankful to have clay. As we drip water on the ground through our irrigation hoses, we mimic normal rainfall, allowing the clay to become saturated. Like a year of normal rain fall, when we hope to get 12 inches, we won't irrigate after set. Set describes the transition when the vines' tiny flowers become "." sized grapes.
By cutting water at set, we are ensuring that the plant will still have to fight through the summer to ripen tiny concentrated grapes, undiluted by irrigation. In a drought year like 2014, this is our new definition of dry farming.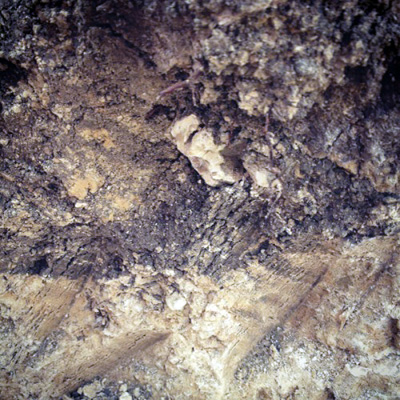 If we had sandy soils, we would have to drip water up to twice weekly throughout the 2014 growing season to give the roots enough water to survive. From an ecological standpoint, we are relieved to have clay. When we dug our initial deep wells that extend all the way through the limestone to our water table, the experts estimated we sit on an eleven billion acre-feet aquifer. While this large number is reassuring, we don't want to test our reserve's resilience.
Clay soil is very much alive. Because of its ability to retain water, nutrients and bugs abound, creating a rich environment for our vines. We don't spray any herbicide or pesticide to allow nature to regulate itself.
This active environment lends a whole new meaning to organic farming, as not only are the grapes that arrive into the winery free of chemicals, but they come from a healthy, happy environment, carrying plenty of native yeast to ferment sugar.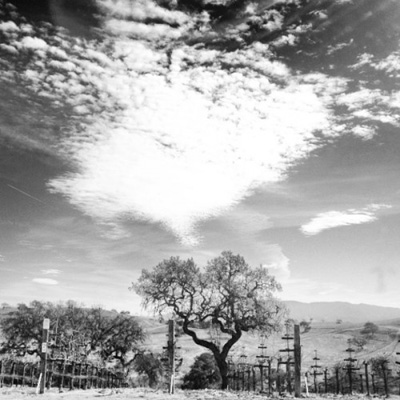 Because of clay's high density and moisture content, the soil retains the cold temperatures of our frigid Ballard Canyon nights. Clay makes our vineyard behave like a much cooler site than our degree days indicate. We've seen this in the varietals that excel at Stolpman: late ripening Syrah, Grenache, and Roussanne. Clay creates too cold of an environment for Bordeaux varietals like Cabernet Franc, Cabernet Sauvignon and Merlot.
For the red varietals in which we focus, Syrah, Grenache, and Sangiovese; cool clay delays sugar development while phenolic maturity has time to evolve. In other words, we can get ripe, complex flavors without high alcohols.
However, just across the "Ballard Canyon Bowl", Jonata prides itself on Cabernet Franc, as it lies on warmer sand. I believe having both sand vineyards and clay vineyards within Ballard Canyon AVA creates an even more interesting, dynamic winegrowing area. Like the Limestone Cote Blonde and Iron Cote Brune of Cote Rotie, sand and clay soils in Ballard Canyon create different expressions of Syrah.
Peter is partner of Stolpman Vineyards, with his parents, Tom & Marilyn. He manages the day to day happenings, all wholesale markets & coordinates the winemaking, vineyard work & the Tasting Room, inspiring the pursuit of extraordinary vineyard crafted wines. He spends most of his time traveling and introducing the world to Stolpman wines and uses the blog to share his stories and adventures.