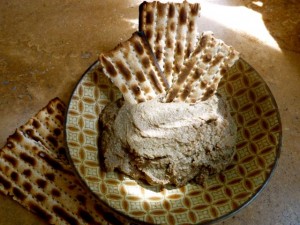 If you ask my Jewish husband, he'll tell you that, until I married him, I "didn't know from Jewish food." And he's right. As a girl who was raised a Southern Baptist in Texas, my experience with Jewish cuisine was limited to toasting a bagel.
But when we had children and decided to raise them respecting the traditions of both of our religions, I really got into it. Hannukah and Christmas, Passover and Easter, we celebrated all of the holidays that honored God and Food.
Until the year he told me he craved chopped chicken liver and I was at a loss.
Thankfully, my mother-in-law gave me an amazing cookbook, The Gefilte Variations
, and I realized chopped chicken liver was just a version of French pate, something that even this shiksa could understand.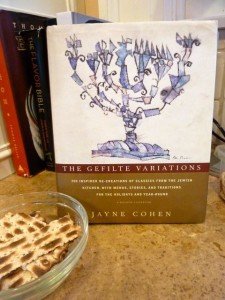 But even though the nutritional profile for chicken livers prove they're high in protein, vitamin A, and B vitamins like folate–all good things for health–they're also loaded with cholesterol.
And the recipe we loved from the book also called for adding in chicken fat (shmaltz) or oil, and whole eggs…all heavy in cholesterol..which may be "kosher for Passover" but may also land you at the gates of heaven before your time.
But now, by using a few skinny tricks–cooking the onions in chicken broth instead of fat, substituting egg whites for whole eggs and using half the amount of liver and twice the amount of onions–this recipe now has just 100 calories a half cup serving instead of 200 and just a fraction of the fat and cholesterol..and a better taste!
So call it Pate or call it Chicken Liver, it's now an appetizer I serve before both our Passover and Easter feasts and, at both celebrations, it's just Delish!
SKINNY CHICKEN LIVER, CARAMELIZED ONION AND PORCINI PATE
8 cups sliced yellow or brown onions (3-4 onions)
1 teaspoon kosher salt
1/2 teaspoon black pepper
1/2 cup chicken broth
1 oz dried Porcini mushrooms
1/4 cup balsamic vinegar
1 teaspoon brown sugar
1 lb fresh chicken livers, rinsed
2 cups liquid egg whites
Spray a large non-stick pan (preferably one with a lid) with cooking oil and place over medium-high heat. Add onions, salt and pepper, and toss and turn for 10 minutes until they begin to soften and bits go golden brown. Add 1/2 c of broth and the dried Porcini mushrooms, reduce heat to low and cover and cook 30-35 minutes, stirring occasionally.
Lift lid, add the 1/4 c balsamic vinegar and brown sugar and turn heat back to medium, tossing and stirring until onions are dark and sweet and almost all moisture is gone. (Don't let the pan go totally dry, the vinegar will damage your non-stick pan and the onions can burn.) Transfer onions and mushrooms to the food processor.
Spray the pan with a little more oil (no need to wash) and drop in chicken livers.
Let them cook, undisturbed for a few minutes and then keep cooking another 5 minutes, turning occasionally, until they're nicely browned on the outside and almost firm to the touch.
Add to processor.
Wipe out the pan with a wet paper towel and spray again with cooking spray. Heat for 30 seconds on medium-low and pour in egg whites. Immediately turn heat to low, cover and cook for about 5-6 minutes. Watch carefully, you want the eggs to be almost set before you turn the heat off but don't want the bottom to brown.
Leave the egg whites in the pan with the lid on for a few more minutes so they continue to firm, then transfer to food processor with the onions and livers and whirl until smooth. When processed to the texture you prefer, pour the mixture into a few pretty bowls and let cool completely. Cover with plastic wrap, pushing down so that the wrap is touching the surface of the pate, and refrigerate for at least 4 hours before serving.
(I usually make mine one full day ahead so that it's nice and firm when I want to serve it and I don't have to worry about appetizers when I'm making a holiday meal.)
If you're staying kosher for Passover, you can serve it with Matzo or Crudite…Or you can use Rice Crackers, Multi-grain Gluten free crackers, even salted Pop-Chips.
Trust me, if you love pate or chopped chicken livers, you'll love this skinny version…loaded with flavor, but not heavy in fat or cholesterol!
So Munch On..and Mazel Tov!!
After 25 years as a local and network anchor, Lisa McRee was just another American mother struggling, and failing, to lose weight. Finally, she cracked the code, and lost 30 pounds, quickly and for good, by doing what she loves: reporting, cooking and eating! Visit The Skinny to see how she did it.