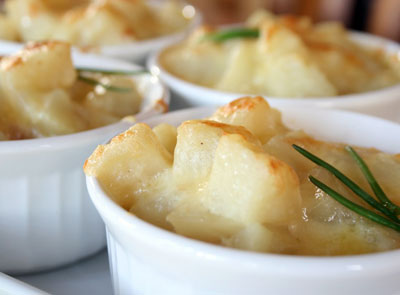 In many homes on Easter Sunday, a succulent ham shank, crusted with brown sugar and mustard, is brought to the dinner table glazed and bubbling, surrounded by creamy scalloped potatoes. This will happen again in just a few days in many homes, but not mine.
Ham has never been part of the Easter meal tradition at my house. Growing up with a German-Czechoslovakian father meant every holiday dinner involved a roasted loin of pork, crusted with flavorful caraway seeds and softball-sized dumplings to soak up the drippings from the pork and lots of creamy sauerkraut.
After I got married, though, I discovered ham and scalloped potatoes. I tried to learn to prepare a moist ham and creamy scalloped potatoes. But, I almost always wound up with dry ham and curdled potatoes. I gave up and went back to the familiar pork dinner that I was more comfortable with in the kitchen. My favorite guy missed the cheesy scalloped potatoes, but adapted well to the more German-style Easter meal.
Early in my marriage, I clipped a recipe for Blender Scalloped Potatoes from a newsletter from somewhere and glued it onto one of the pages of the 3-ring binder that served as my personal recipe collection. I wrote a short comment beside the recipe after making it for the first time back in the 1970′s — "So good and so easy."
No pre-cooking the potatoes and not a single can of cream-of-anything soup in sight. The recipe makes enough to fill a 1-quart casserole dish, which was just enough for my family over the years. If you're serving a crowd, make two or three batches to create a large pan full of scalloped potatoes, or make several individual servings by using ramekins.
I don't believe there could be an easier way to prepare creamy, cheesy potatoes. Whole milk (I've experimented with reduced-fat and no-fat milk. They don't give the rich, creamy results that whole milk delivers) goes into the blender for a whirl with an onion and a tiny bit of flour. The liquid mixture gets poured over raw, cubed potatoes in a baking dish. A few dots of butter and a hefty handful of grated Cheddar finish the preparation before the potato dish goes into the oven for about 90 minutes. That's it.
Any leftover scalloped potatoes reheat nicely in the microwave oven. Add some chopped leftover ham to the potatoes before reheating. That's a meal in a dish.
I must admit that I've never served these potatoes with ham. Try them with pork chops or meat loaf or steak — the best!
Blender Scalloped Potatoes (So good and so easy)
1 to 1 1/2 pounds red potatoes, peeled and cut into cubes
1 1/2 cups whole milk
1 medium onion, peeled and cut into chunks
1 tablespoon all-purpose flour
Salt and pepper to taste
2 tablespoons butter
2 ounces (1/2 cup) grated Cheddar cheese
Preheat oven to 350°F. Lightly butter 1-quart glass baking dish or 4 (6- to 8-ounce) ramekins.
Put potato cubes into prepared dish(es).
Pour milk into blender. Add onion chunks and flour. Process until mixture is smooth. Pour mixture over potato cubes. Dot with butter. Spread cheese over all.
Bake, uncovered, in preheated 350-degree oven for 1 1/2 hours or until the potatoes are tender.
Tips from the cook:
I find the cheese gets very dark brown after 1 1/2 hours in the oven. I often bake the dish without the cheese for 60 minutes, then add the cheese for the last 30 minutes or so. I like the cheese to get golden, but not so dark that it looks burned.
For more depth of flavor, I sometimes skewer a chubby clove garlic and a bay leaf on a toothpick and dunk it into the potatoes, just along the side of the dish, before baking. At serving time, I pull out the pick that is still holding the garlic and bay leaf.
I like using white sharp cheddar cheese for these scalloped potatoes.
Sue Doeden is a popular cooking instructor, food writer and integrative nutrition health coach. She is the host of Good Food, Good Life 365 on Lakeland Public Television. Her own hives full of hardworking bees and her love of honey led to the creation of her recently published cookbook, Homemade with Honey.