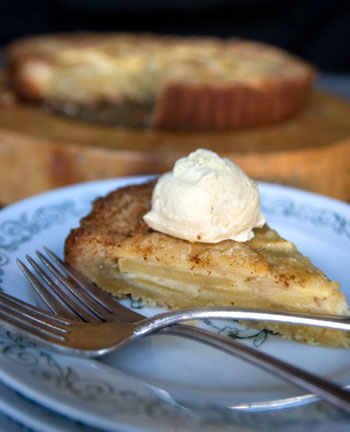 This past weekend, it was a bit cold. After Levi's flag football game, I came home, grabbed 4 cooking magazines and got under the covers. I earmarked half of each issue and not only did I read each and every one of them but I spent almost the entire next day in the kitchen.
I had been going back and forth on what desserts I was going to make this upcoming holiday season and although I have a few favorites, I was really hoping for something new. What I loved most about this tart (aside from the crust – because it is more of a cookie rather than a doughy crust) is that I sometimes find apple "pies" way too tart or too runny.
This had the texture of a Clafoutis, but didn't taste as eggy as some I have eaten in the past. Eli topped this off with a scoop of our Cinnamon Ice Cream and he could, literally, not stop moaning. I think he ate 90% of this and he would proudly admit it, if asked.
Brown Butter Apple Tart + A Sweet Tart Dough
Ingredients:
for the crust:
5 ounces | 140 grams | 1 cup brown rice flour
3 1/2 ounces | 100 grams | 1/2 cup organic, natural cane sugar
1 ounce | 30 grams | 1/4 cup millet flour
1 ounce | 25 grams | 1/4 cup almond flour
1 teaspoon Celtic sea salt
5 1/4 ounces | 150 grams | 10 tablespoons cold, unsalted butter, cut into cubes
2 tablespoons cold, organic whole milk
for the filling:
4 large, organic eggs
7 ounces | 140 grams | 1 cup maple sugar
8 ounces | 226 grams | 1 cup(16 tablespoons) unsalted butter
1 vanilla bean – split
2.5 ounces | 70 grams | 1/2 cup gluten free flour blend
1/2 teaspoon Celtic Sea Salt
3 tart apples (I used Braeburn) peeled, cored, cut into 1/8 – 1/4″ rings
instructions:
for the crust:
in the work bowl of a Cuisinart, pulse the brown rice flour, natural cane sugar, millet flour, almond flour, and Celtic sea salt.
add the butter and pulse until it resembles coarse sand.
add the milk and pulse until it is still crumbly, but comes together (you may need to add a touch more milk).
press the dough into an 11″ tart pan (with removable bottom), have the dough come all the way up the sides of the pan. place in fridge until ready to use (I did this the day before and covered it with plastic wrap).
for the filling:
preheat oven to 350 degrees F
place the butter in a small sauce pan set over a medium flame. add seeds from the vanilla bean as well as the pod. cook, stirring often, until butter foams and begins to turn brown.
let cool until room temperature (about 10 minutes).
remove vanilla bean pods and discard.
in a small bowl, whisk the eggs and sugar. add cooled butter and mix to combine. add flour and salt, mix well.
assembly and bake:
cover a rimmed baking sheet with heavy duty foil(I did not do this the first time and I had a pool of butter in my pan). place a piece of parchment over the foil. put tart pan on top.
layer sliced apples over cold crust. pour custard over apples.
bake 50-70 minutes (if using this crust, bake about 50 minutes, if using a traditional crust, bake longer) or until apples are golden brown and the filling is puffed and set in the center.
cool on a wire rack for 2 hours.
remove from pan and serve with homemade ice cream or homemade whipped cream.
yield: 1 11″ tart
note: this dough is so versatile. I have used it for many of my favorite bar cookies that requires a shortbread bottom. It's is now one of my freezer staples.
Susan Salzman writes The Urban Baker blog to explore her dedication to good food in the hope of adding beauty to the lives of her family and friends.