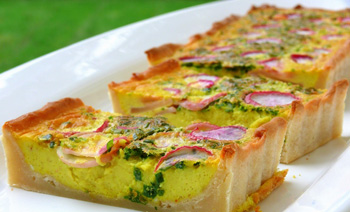 Adapted from Cuisine at Home

Crust:
1 cup all-purpose flour
1 Tablespoon powdered sugar
1/4 teaspoon table salt
4 ounce cold cream cheese, cubed
3-4 Tablespoons ice water
1 egg white, lightly beaten (for brushing)

Filling:
3 eggs
2 egg yolks
2/3 cup heavy cream
1 teaspoon kosher salt
3/4 teaspoon curry powder
1/4 teaspoon ground coriander
1/4 cup chopped fresh chives
1 cup thinly sliced red radishes (5 oz)

Preheat oven to 400o F. Coat a 9" rectangular, round or square tart pan with removable bottom with nonstick spray.

For the crust combine flour, powdered sugar and table salt in food processor. Add cream cheese and ice water; pulse to form a ball around the blade. This dough is forgiving so don't worry about overmixing. Remove dough, cover in plastic wrap and chill 30 minutes. (Dough can be made a day ahead.)

Press dough into prepared pan. Freeze crust 15 minutes. Line crust with foil; fill with pie weights like dry beans or rice. Bake tart on a baking sheet 25 minutes. Remove pie weights and foil. Dock crust by piercing with a fork, and bake 15 minutes more. Brush crust with egg white and return to oven for 2 minutes (this seals the holes from docking and keeps crust crisp).

For the filling, whisk together eggs, egg yolks, heavy cream, kosher salt, curry powder and coriander in a bowl.

Pour filling into hot crust so it begins to cook immediately instead of soaking into the crust. Scatter radish slices over top. Transfer tart to oven and bake until filling is set, 20-25 minutes. Let tart rest 10 minutes, remove from pan and serve warm or at room temperature (warm is best).
- Recipe courtesy of noblepig.com.