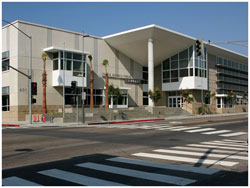 After allowing my 13 year old daughter Hannah to sit on the couch all summer and watch TV, while surfing the net for days on end, my guilt that nothing worthwhile was filling that pretty little head of hers was mounting. I started looking for things to do in this wonderful town of ours. I definitely wanted to go to the Lautner exhibit at the Armand Hammer Museum and Hannah saw a picture of one of his houses and was actually interested too, but then I saw something on Daily Candy talking about an event at the Santa Monica Library and thought "Aha! This'll be the thing I do. This'll be the antidote to all those episodes of The Suite Life of Zack and Cody. I was going to take Hannah to a symposium on "Food and Climate Change."
The Santa Monica Library reminds me of the NRDC (National Resources Defense Council) building on 2nd street. Its obvious that the entire building is green and a tremendous amount of thought was put into every detail. It's modern lines and materials are beautiful and give me a sense of hope as I see more and more buildings like it.
The hors d'oeuvres and treats were supplied by the Co-Op and I gotta say "yeccchh!" When it comes to trying to approximate a chocolate cookie without chocolate, sugar, wheat and dairy you might as well just f*#k off. Hannah made the mistake of trying one and the look on her face as she tried to masticate this dust bomb was pitiful.
She spent the whole "cocktail hour" walking in circles talking to her friend on the cell phone saying how lame the whole thing was.
But I dragged her into the Martin Luther King auditorium which was just as beautifully appointed with sustainable materials. I didn't know how much longer Hannah would hold before she'd start tugging on my sleeve to leave but Helene York, Director of Bon Appetit Management Company Foundation must have read my mind. She started a couple of minutes early.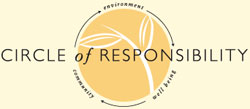 I got everything wrong. I thought the event was sponsored by the magazine of the same name. But the Bon Appetit Management Company is actually a foundation dedicated to educating consumers and culinary professionals about how their choices affect the environment and the economy. The BAMCO presentation, entitled Food & Climate Change: Something New To Chew On was a discourse on how to effect socially responsible and proactive food service. Brilliant, right? Ms. York made it very clear that the presentation wasn't about how climate was effecting food, but the other way around, although she did acknowledge that was an interesting topic.
This was about how food contributes to climate change. What was funny to me was how she got started on this whole thing. The tomato. That fruit sure motivates a lot of people. It sure motivated my mom to seek out the farmers market in Santa Monica after proclaiming, "Tomatoes don't have any taste anymore, damnit!" That was in 1983. That was exactly what Ms. York said in 2005.
Many of the things she said were like a knife in my heart. Mainly because I was guilty of them and didn't know how destructive they were. I was so proud of the fact that I would sometimes drive to three markets to get exactly what I wanted for my family. Any time you waste gas doing that, it contributes to climate change. When you buy French brie as opposed to local, you've endorsed the use of the gas it takes to transport that Brie from the farm, to the city, to the airport, the impact of the jet fuel, the truck that takes it from the airport, to the city, to the store, yada yada.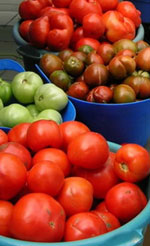 That applies to ALL imported food. Any refrigerated food that's imported comes by plane. Think about it. She showed a map of the United States with a line through it. Everything east of the Mississippi has too much of an environmental impact to be transported here. She urges us to buy local, but she also suggested we ask our farmers market vendors how far they traveled to get here.
She said some go from San Diego to San Francisco because they have so much competition. It doesn't seem very cost effective, but it happens. She said if they come more than 25 miles, it's not worth it. Arrghhh. The pain. The pain.
Hannah was riveted. She told us the distinction between cage free and humane, certified cage free. They are entirely different and we should be buying the latter. She said agriculture is responsible for 1/3 of greenhouse gasses. That hurt. Did you know there's a ton of methane produced in the production of rice? (Animal manure is used and the paddies are flooded year round.) Rice! F*#k! She suggested you send back rice at a Chinese Restaurant if they bring you too much. At least she didn't say "all of it".
She told us frozen at sea, seafood is actually fresher than seafood flown (jet fuel, thank you) to the market. She said that lobster would never be acceptable on our coast, at which point Hannah turned to me with fiery eyes and admonished "No lobster!" Like I was some kind of "wasteroo". Sheesh.
Here's another nugget: Its important to buy local wine, not only because of the transportation impact, but because transporting wine uses more gas per load because the bottles are exceptionally heavy. Yeah. Wine bottles are heavier than most bottles of glass.
Ms. York designed a chart that was on the cover of the Los Angeles Times April 22nd issue that shows the Circle of Responsibility of food's impact. You can also access her website at www.eatlowcarbon.org.
The evening was life changing. There's no doubt about it. The next day, I took Hannah and her friend to the Lautner exhibit. That was also fantastic. I've done my job.
Laraine Newman is a founding member of The Groundlings Theatre Company and an original cast member of Saturday Night Live. She lives in her hometown of Los Angeles with her husband and two daughters.