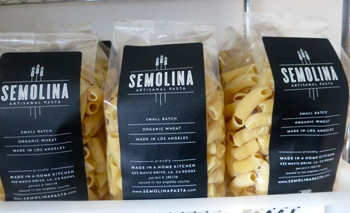 I'm a pasta snob. I admit it and I don't apologize for it. I believe that great pasta is an Italian cultural artifact that's been given to the world. And when I talk about pasta I'm talking about DRY PASTA, that is, Durum Wheat pasta. Pasta made with semolina from exceptional (now, often North American) hard winter wheat.
Over centuries Italian artisans learned how to combine hard wheat with water, humidity and moving air into an easy to store source of calories and whimsy. High quality dry pasta is all about texture.
When properly made it is porous enough to absorb condiments or "sauce", yet sturdy enough to withstand boiling in water and remain resistant while tender. Good dry pasta should be as satisfying to eat as meat. It is not easy to achieve and my favorites are all imported from Italy.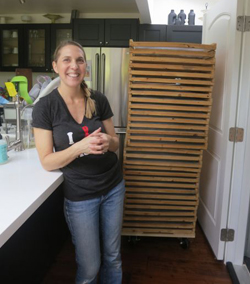 However, now a locally made tasted durum wheat pasta made here in Los Angeles has made it into my rotation. The maker is Leah Ferrazzani. Her company SemolinaLA is turning out to be one of the California Cottage Law success stories.
Leah is selling enough pasta to move out of her inspected home kitchen and into the communal kitchens of LA Prep. SemolinaLA pasta isn't perfect yet in texture, but it's close. I like it for it's nearly floral wheaty aroma, great flavor and for what it almost is. Getting the texture right is falling down a very complex science driven rabbit hole. And Leah is smart and tenacious enough to master it.
In Italy pasta was dried by coastal breezes high in humidity. All pasta cabinets attempt to replicate the soft, moist warm breezes of the bay of Naples. Leah's cottage set-up is a repurposed laundry room, with a heater, humidifier. fan and sensors.
It's astonishing that she's achieved the texture and quality she has in that setting. I can't wait to see what the pasta becomes once she has the equipment and space she needs.
For more information about where you can buy her pasta, please visit Semolina's website.
Evan Kleiman is an active speaker on culinary subjects as well as issues of food culture and sustainability and, just to keep a balance, she has a very public love affair with Pie. She's been called the Jerry Garcia of cooking with the freewheeling improvisation she brings to the kitchen. You can follow her exploits on her blog at http://www.evankleiman.com/