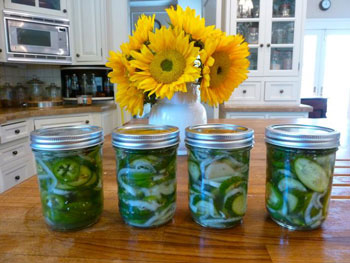 This is a recipe "re-do" of a long time favorite that's now a smart weapon in my war against weight…and it's not only skinny-fied, it's simplified: Cucumber and Pepper Pickles with Whole Spices.
The original recipe that I made for years had all the ingredients here, but also called for a cup of white sugar..and after making it both ways, I promise, that extra sugar is not missed!
And, since this version isn't meant for shelving, but for storing and curing in the fridge, the step of cooking on the stove, sterilizing jars and sealing is avoided entirely…saving time, effort and clean-up!
But, I have to warn you, plan ahead! Though the pickles take just 15 minutes to make, you need to wait at least a day or two before you eat them..they just get better and better.
As a stand alone snack, on a veggie, turkey or bison burger, on top of fish, on a skinny crostini, or on a grilled shrimp or chicken taco, these little jewels are a great way to add flavor and texture to loads of dishes without adding any extra calories!
CUCUMBER AND PEPPER PICKLES WITH WHOLE SPICES
This recipe makes 4-5 well packed quart jars of pickles. And though my family can eat them all in a week, if you have a small family or are cooking for one, make the 4 jars anyway. They're a lovely gift to share with your neighbors, your children's teachers, or the person who's hosting the summer BBQ you're attending!
8-12 Persian Cucumbers, sliced thin (Persian cukes vary in sizes but are always much smaller than regular cukes. Do use them, English cukes or garden cukes release too much water and have to be peeled and seeded..these don't.)
1 Sweet Onion, sliced thin (If you can get Maui Onions, Vidalia, Walla-Walla or Texas Sweet onions, use them. If not, use a white onion…which is more mild than a yellow onion.)
1-4 fresh spicy peppers (This is a matter of taste. Here, I used 4 fresh jalapenos.. which have a bit of a kick if you don't bother to seed them. But if those are too hot, try using peperoncini, banana peppers, or even red bell peppers…I've used them all depending on what's in season at the local farmers market…after they've soaked in the vinegar for a day or two, they all mellow out and work…)
4-5 thick slices of fresh peeled ginger root..(try not to skip it, it makes up for the lost sugar and adds great taste and health benefits.)
1 cup Seasoned Rice Wine Vinegar
1 cup White Wine Vinegar
1/2 teaspoon of each of the following 6 whole spices in seed (not ground) form:
Dill Seed, Mustard Seed, Coriander Seed, Cumin Seed, Fennel Seed, Celery Seed
Place your whole spice seeds into a microwave safe measuring cup or bowl. (You can crush a few with a rolling pin if you like…or be lazy like I sometimes am, and don't.) Toss in the ginger slices as well.
Add the 1 cup rice wine vinegar and 1 cup white wine vinegar and microwave, on 40% strength, for 10 minutes….The low heat will draw out the flavors of the spice seeds without boiling over.
While the marinade heats, chop your cucumbers, onions and peppers, plop them in a bowl and sprinkle all with a tiny bit of salt.
Once the marinade is warm, pour it over your veggies and toss well. (It's going to look like far more veggies than you'll need for 4 jars, but after they soak in the hot marinade, they'll collapse and be easy to pack into the jars.)
Let cool at room temperature for an hour, stirring and tossing now and then.
Using clean hands, pack your veg into the jars…pressing down to compact..
Then fill each jar with the remaining liquid, put on the lids, and let sit for another day or two in the fridge…
Voila…That's it!!
Enjoy and don't forget to share with friends!
After 25 years as a local and network anchor, Lisa McRee was just another American mother struggling, and failing, to lose weight. Finally, she cracked the code, and lost 30 pounds, quickly and for good, by doing what she loves: reporting, cooking and eating! Visit The Skinny to see how she did it.