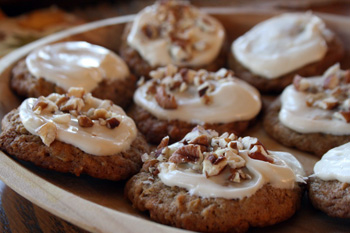 2 cups all-purpose flour
1 teaspoon baking soda
1 cup butterscotch morsels
1 cup old-fashioned rolled oats, uncooked
2 teaspoons ground cinnamon
1/2 teaspoon ground nutmeg
1/2 teaspoon ground cloves
3/4 cup butter, room temperature
2/3 cup granulated sugar
2/3 cup firmly packed brown sugar
1 large egg
1 teaspoon pure vanilla extract
1/2 cup pumpkin puree
Maple Cream Cheese Frosting (see recipe below)
2/3 cup pecan halves, chopped
Preheat oven to 350°F.
Position steel blade in food processor bowl. Pulse flour and baking soda to mix. Add butterscotch morsels and pulse for about 30 seconds or until morsels are finely chopped. Add oats, cinnamon, nutmeg and cloves and pulse few times to chop the oats. Set mixture aside.
In a large mixing bowl, beat butter until creamy. Gradually add sugars, beating well. Add egg, vanilla and pumpkin, beating to blend. Stir in flour mixture.
Drop cookie dough by tablespoonsful onto parchment-lined or lightly greased baking sheets. Bake in preheated 350-degree oven for 10 to 12 minutes or until golden and set. Transfer to wire racks to cool completely. Makes 4 dozen cookies.
Frost cookies with Maple Cream Cheese Frosting. Sprinkle chopped pecans over the frosting.
Maple Cream Cheese Frosting
1 (8-ounce) package cream cheese, room temperature
2 tablespoons butter, room temperature
1/4 cup pure maple syrup
1/2 teaspoon pure vanilla extract
1 cup powdered sugar
In a mixing bowl, beat cream cheese and butter until smooth and creamy. Add maple syrup, 1 tablespoon at a time, beating to incorporate before adding more. Add vanilla and blend. Gradually add powdered sugar. Frosting will be soft and creamy. If it is too soft to spread onto the cookies, add a little more powdered sugar.
- Recipe courtesy of Sue Doeden