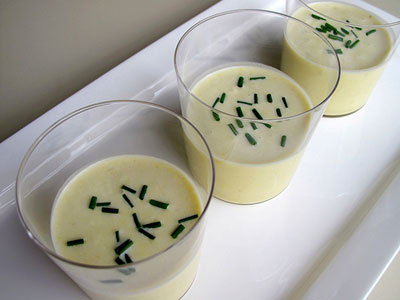 2 tablespoons butter
1 tablespoon olive oil
2 shallots, finely chopped
3 leeks, white and light-green parts, thinly sliced
1 pound potatoes (about 2 medium), peeled and diced
4 cups chicken stock
1 bay leaf
1 cup heavy cream
coarse sea salt
freshly ground white pepper
chives, for garnish
Heat butter and oil in a large pot over medium-low heat. Add shallots and leeks. Cook until translucent and soft but not brown, about 10 minutes. Add potatoes, chicken stock, and bay leaf; bring to a boil. Reduce to a simmer and cook until potatoes are tender, about 25 minutes.
Using a blender, purée the soup in batches until silky smooth. Return the soup to the pot and warm. Stir in cream and season with salt and pepper. Serve hot or cold. Garnish with chopped chives. Yield: 6 to 8 servings.
- Recipe courtesy of Joseph Erdos