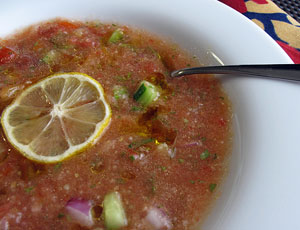 Gazpacho
1 pound tomatoes, seeded and chopped
1 English cucumber, peeled, seeded, and chopped
1 medium celery stalk, chopped
1/4 red bell pepper, chopped
1/2 small red onion, chopped
1 garlic clove, chopped
1/2 tablespoon coarse sea salt
1/4 teaspoon freshly ground black pepper
1/2 teaspoon sweet paprika
1/8 teaspoon hot paprika
2 tablespoons red-wine vinegar
1/4 cup extra-virgin olive oil
1 cup water
1/2 cup chopped parsley
In a blender, combine half the tomatoes, half the cucumbers, half the onions, celery, bell pepper, garlic, salt, pepper, and both sweet and hot paprika. Purée until almost smooth.
Pour mixture into a bowl. Stir in vinegar, olive oil, and water. Add parsley and the remaining chopped tomatoes, cucumbers, and onions. Refrigerate for 1 hour before serving. Yield: 6 to 8 servings.
Joseph Erdos is a New York–based writer and editor, but above all a gastronomer and oenophile. He shares his passion for food on his blog, Gastronomer's Guide , which features unique recipes and restaurant reviews among many other musings on the all-encompassing topic of food.